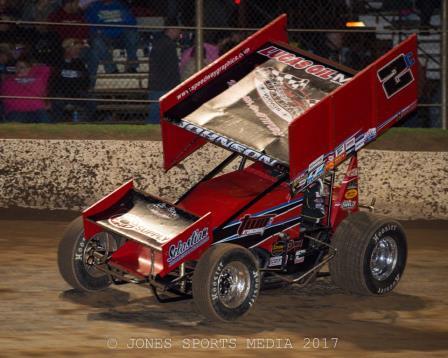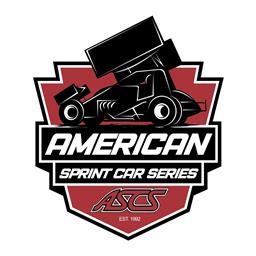 ---
Wednesdays with Wayne - Dukes of Hazzard!
(Image Credit: Jimmy Jones)
(Bill W) April 5, 2017 – The reconfiguration of I-30 Speedway near Little Rock, Arkansas has been popular with fans and drivers alike. Wayne Johnson checked in last Saturday night for some ASCS regional action, and thanks to a fellow competitor, found out turn three is back to being a launch spot.
Fortunately, the Oklahoma City driver kept it on all fours, just like Bo Duke would. This weekend the Two-C Racing #2c team will be back in Lucas Oil ASCS National Series action at the dirt track at Texas Motor Speedway.
Wayne won his heat from inside row two on Saturday. "The car was really working well in the heat," he says. "We were able to get the lead and kind of drove away from those boys."
He would draw a starting spot for the feature inside row four. "We were able to get to fourth within a couple of laps," says Wayne. "The car was good. I don't know if we were good enough to win, but we felt pretty good. We were kind of waiting on traffic for an opportunity to pass. They've totally changed the shape of the track again. There's tons of banking. It's like it used to be years ago. The bottom was heavy in one and two, and I was tight down there. So I went to the top."
A caution slowed the action. "There was a restart, and Zach Pringle had been running the bottom," says Wayne. "I needed to get around him. I didn't get the best of starts and (Spencer Bayston) got a run on me. I was on the top and he was on the bottom going down the backstretch. We were side by side. Almost at the end of the straightaway, he decided to make a right-hand turn and smoked into the side of me."
That's when Wayne did his Bo Duke impression as the #2c resembled the General Lee. "Of course, the bank is a lot steeper than it was, and we flew off the end of the track," he says. "We were lucky not to destroy both of our cars. Luckily, we didn't get upside down, but that ended our night. We didn't want to go back out, start on the tail, and risk tearing something up."
The team will be ready for Fort Worth. "We're really looking forward to getting to TMS," says Wayne. "We'll get some practice in tomorrow night and see where we are for the weekend."
Follow Updates on Facebook!
Wayne will update as his race night commences at his Facebook page. Find it by searching for
Wayne Johnson Racing or clicking the following link…
http://www.facebook.com/#!/WayneJohnsonRacing
Outlaw Wings – "The Wing with an Attitude"
Check out the new "recessed rivet" design put out by Outlaw Wings. Talk to Wayne about purchasing Outlaw Wings for your car! Outlaw Wings – "The Wing with an Attitude"!
Wayne's Fast Facts
Wayne had a good 2007 season at Knoxville in the 410 despite a limited number of starts. He only failed to finish in the top ten on two occasions. One was the Knoxville Nationals finale when he finished a respectable 11th, and the other was Knoxville's Season Championship night when he was a DNF. His finishes chronologically were 7th, 10th, 3rd, 4th, 6th, 3rd (Nationals Prelim), 11th (Nationals finale), 3rd, and 20th. He will be running at Knoxville in their opener April 21.
Partner of the Week – Canyon Apparel
With over sixteen years of experience in the screen printing industry, Canyon Apparel's work is of the highest quality you will find anywhere in the country. Although their primary focus is custom racing shirts (sprint cars, midgets, late models and modifieds), they are more than capable of handling other jobs for businesses, events or race track designs. If you would like a quote or just need more information, call them at 866-799-6966 or visit them on the web at www.CanyonApparelPrinting.com!
"Wednesday's with Wayne"
"Wednesday's with Wayne" is an up close look at the past, present and future of colorful and talented sprint car driver Wayne Johnson. You'll never know what to expect next with Wayne, so don't miss us on Wednesdays!
To receive "Wednesday's with Wayne", send an e-mail to sprntcar@hotmail.com with"Wayne" in the subject line.
Wayne Johnson Racing would like to thank partners, Todd Carlile, Outlaw Wings, City Vending and product sponsors The Oil Medics, Sebastian Sandblasting & Powdercoating, Rod End Supply, Astro Titanium, Schoenfeld Headers, Simpson, Butlerbuilt, Xtreme Accu-Tach, Weld Wheels, Slade Shocks, Kustom Sprint Car Supplies, Fisher Racing Engines, Speedway Graphics and Canyon Apparel.
Photo: Wayne tackled I-30 Speedway Saturday (Jimmy Jones – Jones Sports Media)
Bill W Media
Monroe, IA USA
sprntcar@hotmail.com
Twitter: @BillWMedia
Website: www.OpenWheel101.com
---
Submitted By: Bryan Hulbert
Back to News