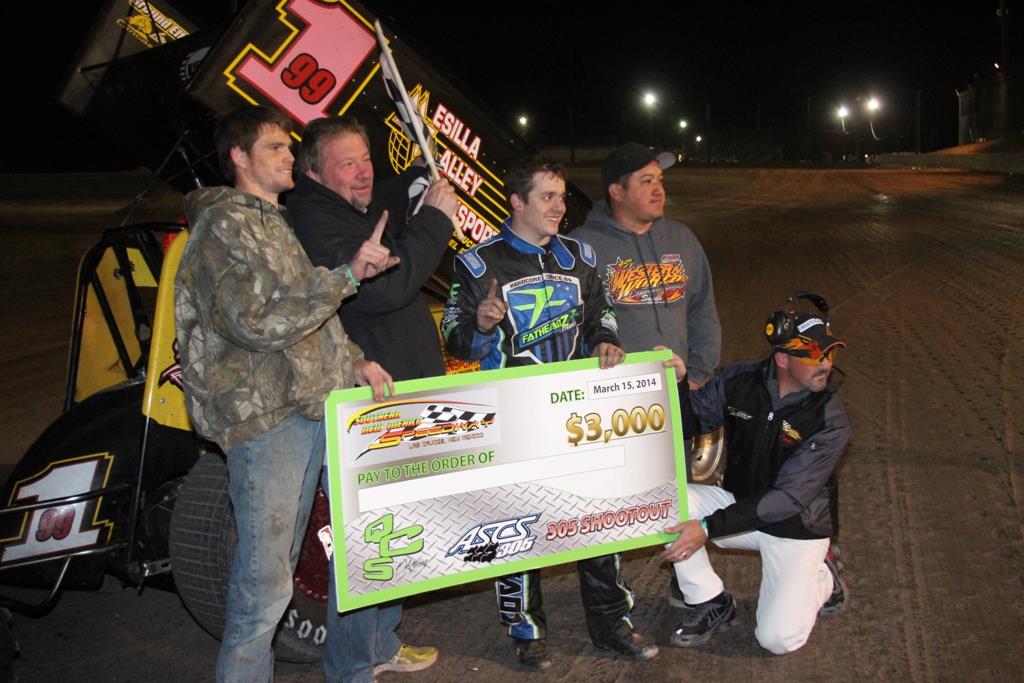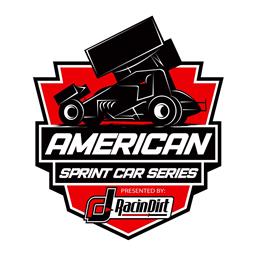 ---
Brady Bacon Victorious in ASCS 305 Shootout
LAS CRUCES, N.M. (March 15, 2014) - After having to drop to the tail Friday night at the El Paso Speedway Park and coming to fourth, it was evident that Brady Bacon had the speed to win and it showed Saturday night as the Broken Arrow, Okla. shoe lapped through tenth to collect the $3,000 winner's check at the ASCS 305 Sprint Car Shootout at the Southern New Mexico Speedway.
Gridding the Minks Motorsports No. 199 eleventh, Bacon ran down Jason Johnson in slower traffic to grab the lead with 12 laps to run, opening his advantage to 6.293 seconds in the final circuits. Brady is the first non-local driver to win the event, and the fourth different winner in five years.
John Carney II wheeled the Drown Motorsports backed No. 74BC to a runner up finish with Jason Johnson holding off Johnny Herrera's Print Place Motorsports No. 45X for third by 0.010 seconds at the line in the Stenhouse, Jr. Racing owned, Curb / Agajanian Performance Group co-owned No. 41.
Aaron Reutzel came from sixteenth to complete the top five, giving both Minks Motorsports entries a top five finish.
Jeff Swindell, Wes Wofford, Lorne Wofford, Cesar Fuentes, and Kyle McCutcheon rounded out the top ten.
The West Texas ASCS 305 Region presented by MVT will begin their regular season of bi-weekly events on Friday, May 2 at the El Paso Speedway Park and Saturday, May 3 at the Southern New Mexico Speedway. For complete news, schedule, and points log onto http://www.ascsracing.com.
West Texas ASCS 305 Region presented by MVT
5th annual ASCS 305 Sprint Car Shootout
Southern New Mexico Speedway - Las Cruces, N.M.
Saturday, March 15, 2014
Car Count: 28
Heat 1 (8 Laps): 1. 27-Cesar Fuentes[3]; 2. 2X-Brandon Williams[2]; 3. 4X-Shawn Petersen[6]; 4. 5-Joseph Hernandez[1]; 5. 1-Aaron Reutzel[7]; 6. 21TX-Brandon Schure[5]; 7. 16-Cory Riley[4]
Heat 2 (8 Laps): 1. 74BC-John Carney II[1]; 2. 18-Lorne Wofford[2]; 3. 80-Josh Hawkins[4]; 4. 45X-Johnny Herrera[7]; 5. 54-Art Quijano[6]; 6. 6U-Anton Salopek[5]; 7. (DNF) 7-Rick Lovelady[3]
Heat 3 (8 Laps): 1. 19-Wes Wofford[1]; 2. 199-Brady Bacon[2]; 3. 94-Jeff Swindell[3]; 4. 41-Jason Johnson[7]; 5. 7K-Kyle McCutcheon[5]; 6. 99-Chuck Jackson[6]; 7. 52-Aaron Quijano[4]
Heat 4 (8 Laps): 1. 9K-Kyle Sager[1]; 2. 148-Don Grable[2]; 3. 2J-Zach Blurton[3]; 4. 131-Royal Jones[7]; 5. 99.5-Derek Demartino[4]; 6. 30-Austin Mundie[5]; 7. 77-Colt Treharn[6]
B Feature 1 (10 Laps, taking top 8): 1. 21TX-Brandon Schure[6]; 2. 7K-Kyle McCutcheon[3]; 3. 6U-Anton Salopek[7]; 4. 30-Austin Mundie[8]; 5. 99.5-Derek Demartino[4]; 6. 77-Colt Treharn[9]; 7. 7-Rick Lovelady[12]; 8. 5-Joseph Hernandez[2]; 9. 52-Aaron Quijano[11]; 10. (DNF) 16-Cory Riley[10]; 11. (DNF) 99-Chuck Jackson[5]; DNS 54-Art Quijano
A Feature (30 Laps): 1. 199-Brady Bacon[11]; 2. 74BC-John Carney II[5]; 3. 41-Jason Johnson[2]; 4. 45X-Johnny Herrera[4]; 5. 1-Aaron Reutzel[16]; 6. 94-Jeff Swindell[14]; 7. 19-Wes Wofford[8]; 8. 18-Lorne Wofford[10]; 9. 27-Cesar Fuentes[7]; 10. 7K-Kyle McCutcheon[18]; 11. 4X-Shawn Petersen[1]; 12. 148-Don Grable[12]; 13. 80-Josh Hawkins[13]; 14. 6U-Anton Salopek[19]; 15. 131-Royal Jones[3]; 16. 2J-Zach Blurton[15]; 17. 2X-Brandon Williams[9]; 18. 21TX-Brandon Schure[17]; 19. 99.5-Derek Demartino[21]; 20. 7-Rick Lovelady[23]; 21. 5-Joseph Hernandez[24]; 22. (DNF) 30-Austin Mundie[20]; 23. (DNF) 77-Colt Treharn[22]; 24. (DNF) 9K-Kyle Sager[6]
Lap Leader(s): Jason Johnson 1-16, Brady Bacon 17-30
---
Submitted By: Bryan Hulbert
Back to News