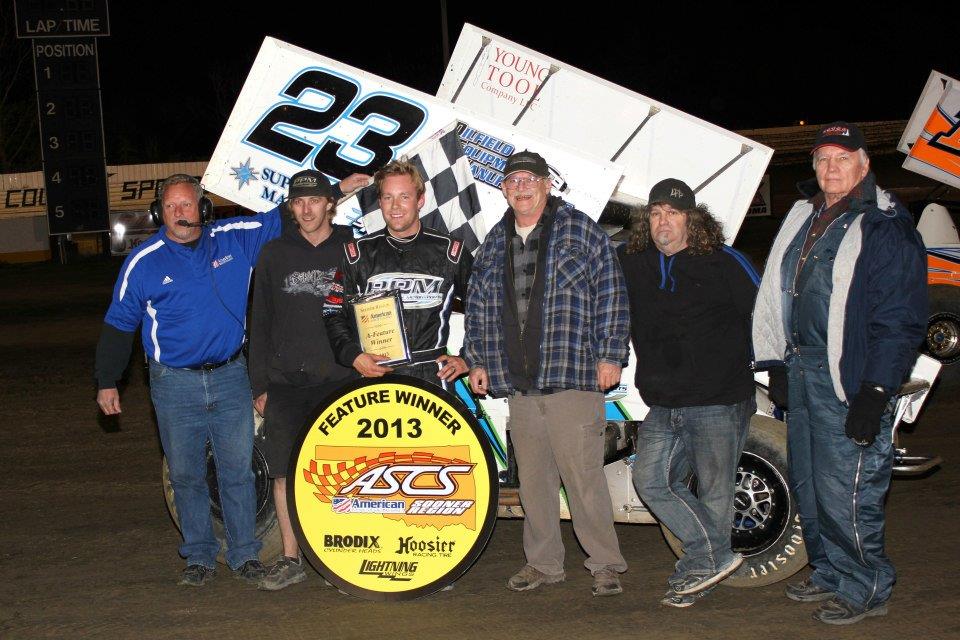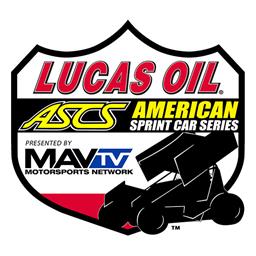 ---
Bergman snags Sooner Region payday
Bryan Hulbert - SAPULPA, Okla. (April 19, 2013) An off weekend with the Lucas Oil American Sprint Car Series presented by MAVTV American Real was a profitable one for Seth Bergman as the Washington driver grabbed the American Bank of Oklahoma Sooner Region opener at the Creek County Speedway presented by Ark Wrecking of Oklahoma.
Taking the green fourth, Bergman trailed Jake Martens and Blake Hahn in the early goings until a miscalculation by Hahn opened the door for the runner up spot on the eleventh round. Pursuing the Martens Machine Shop No. 48 into slower traffic on Lap 20, Bergman, along with Zach Pringle and Matt Covington made it anyone's race. Taking the bottom groove on Lap 22, the Oilfield Equipment No. 23 squeezed into the lead with Pringle in tow.
On the back bumper of Bergman the remainder of the race, Pringle tried several times for the top spot but was denied as Seth Bergman earned the win. Zach Pringle settled for second with Jake Martens, Matt Covington, and fourteenth starting Joe Wood, Jr. making up the top five.
Mike Goodman, Danny Wood, Andy Shouse, Joe Bob Lee, and Jonathan Beason completed the top ten.
The American Bank of Oklahoma Sooner Region continues the weekend at the Springfield Raceway in Springfield, Mo. with the Speedway Motors Warrior Region on Saturday, April 19.
American Bank of Oklahoma ASCS Sooner Region
Creek County Speedway - Sapulpa, Okla.
Friday, April 19, 2013
Car Count: 33
Heat 1 (8 Laps): 1. 95-Matt Covington; 2. 7S-Robert Sellers; 3. 81-Danny Wood; 4. 2W-Whit Gastineau; 5. 36-Jonathan Beason; 6. 90-Jeremy Thompson; 7. 57-Kyle Chady
Heat 2 (8 Laps): 1. 23-Seth Bergman; 2. 7X-Shane Sellers; 3. 25-Blake Hahn; 4. 32X-Robert Richardson; 5. 9$-Kyle Clark; 6. 21X-Taylor Velasquez; DNF 21-Brandon Jennings
Heat 3 (8 Laps): 1. 5-Joe Bob Lee; 2. 94L-Layne Himebaugh; 3. 03-Joe Wood Jr; 4. 85-Forrest Sutherland; 5. W94-Waylon Weaver; 6. 22-Koby Barksdale; DNF 17W-Harli White
Heat 4 (8 Laps): 1. 51-Matt Ward; 2. 48-Jake Martens; 3. 39-Andy Shouse; 4. 8-Alex Sewell; 5. 010-Brian Roberts; DNF 35-Rick Wright Jr
Heat 5 (8 Laps): 1. 14Z-Zach Pringle; 2. 4AM-Mike Goodman; 3. 8X-Shane Pace; DNF 97-Kevin Cummings; DNF 90-Jeremy Thompson; DNF 22K-Kevin Barksdale
B Feature 1 (10 Laps): 1. 81-Danny Wood; 2. 2W-Whit Gastineau; 3. 9$-Kyle Clark; 4. 85-Forrest Sutherland; 5. 57-Kyle Chady; DNF 17W-Harli White; DNF 010-Brian Roberts; DNF 90-Jeremy Thompson; DNF 22K-Kevin Barksdale; DNS 97-Kevin Cummings
B Feature 2 (10 Laps): 1. 8X-Shane Pace; 2. 36-Jonathan Beason; 3. 93-Dustin Morgan; 4. 35-Rick Wright Jr; 5. 22-Koby Barksdale; 6. 32X-Robert Richardson; 7. W94-Waylon Weaver; DNF 21-Brandon Jennings; DNF 21X-Taylor Velasquez
A Feature (25 Laps): 1. 23-Seth Bergman; 2. 14Z-Zach Pringle; 3. 48-Jake Martens; 4. 95-Matt Covington; 5. 03-Joe Wood Jr; 6. 4AM-Mike Goodman; 7. 81-Danny Wood; 8. 39-Andy Shouse; 9. 5-Joe Bob Lee; 10. 36-Jonathan Beason; 11. 2W-Whit Gastineau; 12. 25-Blake Hahn; 13. 8X-Shane Pace; DNF 94L-Layne Himebaugh; DNF 7S-Robert Sellers; DNF 9$-Kyle Clark; DNF 8-Alex Sewell; DNF 51-Matt Ward; DNF 7X-Shane Sellers; DNF 93-Dustin Morgan
Lap Leaders: Jake Martens (1-21), Seth Bergman (22-25)
Photo Credit: Marcia York Sanderson
---
Submitted By: Bryan Hulbert
Back to News