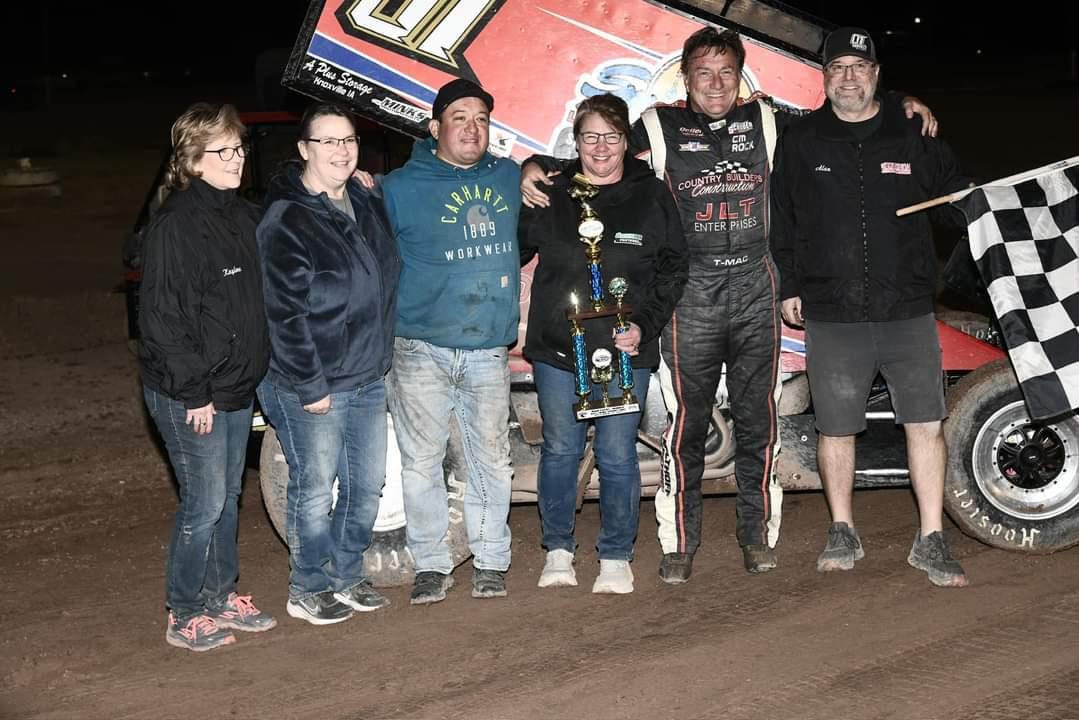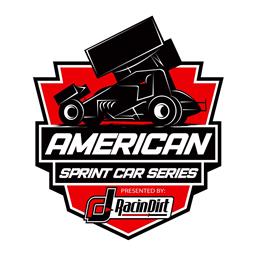 ---
Terry McCarl Lands ASCS Southwest Victory At Central Arizona Raceway
(Image Credit: Ben Thrasher)
Bryan Hulbert - CASA GRANDE, Ariz. (November 10, 2023) Adding his name to the list of winners with the ASCS Southwest Region Friday night, Iowa's Terry McCarl raced his way to the top at Central Arizona Raceway.
Winning Night 1 of the Keith Bryan Memorial, the win marks the fifth ASCS Regional Tour that McCarl has won with.
Doing so in the Kaylene Verville owned No. 01, the win came over California's Dominic Scelzi by 1.050-seconds, who advanced seven positions for the silver step on the podium.
Idaho's Logan Forler crossed third, followed by Brekton Crouch and Tye Mihocko to complete the top five.
The Keith Bryan Memorial at Central Arizona Raceway concludes on Saturday, November 11, with the winner taking home $4,000. Racing gets underway at 7:00 P.M. (MT).
Admission is $20 for adults, $18 for seniors and Military, $10 for Students (13-17), and free for Youth (12 and under). Pit opens at 4:00 P.M. and Pit Passes are $35. Central Arizona Raceway is located behind the Pinal County Fairgrounds at 512 S. Eleven Mile Corner.
For information on the track and coming events, log onto https://www.facebook.com/CentralArizonaRaceway or call (602) 292-7607.
The 2023 season will mark the 32nd year of competition for the American Sprint Car Series. Spearheaded by the Lucas Oil American Sprint Car Series presented by the MAVTV Motorsports Network, the ASCS Nation includes Regional Tours that encompass both wing and non-wing competition.
For other news, notes, and information on any of the tours under the ASCS banner, log onto http://www.ascsracing.com, follow on Facebook, Instagram, and Twitter (@LucasOilASCS).
Race Results:
ASCS Southwest Region
Central Arizona Raceway (Casa Grande, Ariz.)
Friday, November 10, 2023
Heat 1 (8 Laps): 1. 02-Ashton Torgerson[1]; 2. 75-Chris Bonneau[2]; 3. 2-Brekton Crouch[6]; 4. 22-Garen Linder[4]; 5. 6C-Travis Coelho[3]; 6. 7BG-Joshua Shipley[7]; 7. 61-Chaz Baca[5]
Heat 2 (8 Laps): 1. 7OH-Tye Mihocko[2]; 2. 14T-Tim Estenson[1]; 3. 2L-Logan Forler[5]; 4. 41X-Dominic Scelzi[6]; 5. 5H-Patrick Krob[4]; 6. 8-Jake Helsel[3]
Heat 3 (8 Laps): 1. 01-Terry McCarl[1]; 2. 57-Stevie Sussex III[2]; 3. 88-Austin Torgerson[3]; 4. 49-Cameron La Rose[4]; 5. X-Dylan Harris[5]; 6. (DNS) 75X-JT Imperial
A Feature (25 Laps): 1. 01-Terry McCarl[2]; 2. 41X-Dominic Scelzi[9]; 3. 2L-Logan Forler[6]; 4. 2-Brekton Crouch[1]; 5. 7OH-Tye Mihocko[3]; 6. X-Dylan Harris[13]; 7. 75-Chris Bonneau[8]; 8. 22-Garen Linder[11]; 9. 88-Austin Torgerson[10]; 10. 49-Cameron La Rose[12]; 11. 75X-JT Imperial[19]; 12. 6C-Travis Coelho[16]; 13. 02-Ashton Torgerson[4]; 14. 57-Stevie Sussex III[5]; 15. 8-Jake Helsel[17]; 16. 61-Chaz Baca[18]; 17. 7BG-Joshua Shipley[15]; 18. 5H-Patrick Krob[14]; 19. 14T-Tim Estenson[7]
---
Submitted By: Bryan Hulbert
Back to News