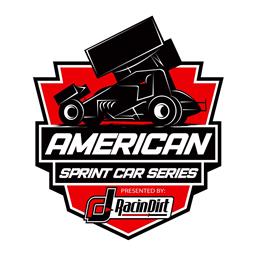 ---
Chase Johnson Lands ASCS Arizona Non-Wing Victory During Western World Opener
Bryan Hulbert - SOMERTON, Ariz. (November 3, 2023) Opening up the 56th annual Western World Championships Friday night at Cocopah Speedway, the ASCS Arizona Non-Wing Series joined the AMSOIL USAC/CRA Sprint Car Series at the three-eighths-mile oval with California's Chase Johnson rolling into Victory Lane.
Besting a field of 32 competitors, Johnson started the 25-lap affair from the right of the third row. Picking is way to second on Lap 9, a quick back and forth finally saw the No. 4j retake the position from Ricky Lewis on Lap 15.
Chasing Charles Davis, Jr., who had led from the start, Johnson took over the point with five laps to go. Getting the win by 0.389-seconds, the chase to the finish saw 17th-starting, Kevin Thomas, Jr. charging to runner-up honors with 27 overall cars passed through B and A-Feature competition. Ricky Lewis would settle for third, with Stevie Sussex also making a 27-position run from deep in the B-Feature to fourth in the A-Feature. Charles Davis, Jr. completed the top five.
R.J. Johnson, Grant Sexton, Jayme Barnes, Shon Deskins, and Hayden Reinbold made up the top ten.
The Western World continues on Saturday, November 4, at Cocopah Speedway, with racing at 6:00 P.M. (MT). Cocopah is located at 3450 W County 15th St in Somerton, Ariz., just across from the Cocopah Casino and Resort.
The 2023 season will mark the 32nd year of competition for the American Sprint Car Series. Spearheaded by the American Sprint Car Series National Tour, the ASCS Nation includes Regional Tours that encompass both wing and non-wing competition.
For other news, notes, and information on any of the tours under the ASCS banner, log onto http://www.ascsracing.com, follow on Facebook, Instagram, and Twitter (@ascsracing).
Race Results:
ASCS Arizona Non-Wing
Cocopah Speedway (Somerton, Ariz.)
Friday, November 3, 2023
Heat 1 (8 Laps): 1. 11C-Charles Davis Jr[2]; 2. 43-Justin Kierce[4]; 3. 20-Shon Deskins[7]; 4. 72-AJ Hernandez[3]; 5. 98-Matt Lundy[6]; 6. 85M-Malyssa Perkins[1]; 7. 99-Bobby Carrick[5]; 8. 3V-Jim Vanzant[8]
Heat 2 (8 Laps): 1. 41-Ricky Lewis[3]; 2. 4J-Chase Johnson[7]; 3. 9-Jayme Barnes[5]; 4. 21-Austin Ervine[1]; 5. 49-Cameron La Rose[4]; 6. 51W-Ronald Webster[6]; 7. (DNF) 50S-Rocky Silva[2]; 8. (DNS) 57-Stevie Sussex III
Heat 3 (8 Laps): 1. 44-Grant Sexton[3]; 2. 51-RJ Johnson[5]; 3. 007-Wayne Siddle[6]; 4. 10-Eugene Thomas[1]; 5. (DNF) 3K-Patrick Krob[4]; 6. (DNF) 3-Pete Yerkovich[2]; 7. (DNF) 15-Kevin Thomas Jr[7]; 8. (DNS) 12-Bobby Marcum
Heat 4 (8 Laps): 1. 4C-Jake Swanson[1]; 2. 19AZ-Hayden Reinbold[2]; 3. 6-Logan Calderwood[4]; 4. 21P-Daylin Perreira[5]; 5. T5-Dan Taylor[8]; 6. 14-Blake Hendricks[7]; 7. 5E-Elexa Herrera[6]; 8. 10AZ-Steve Tellas[3]
B Feature (12 Laps): 1. 15-Kevin Thomas Jr[13]; 2. 49-Cameron La Rose[3]; 3. T5-Dan Taylor[2]; 4. 57-Stevie Sussex III[15]; 5. 51W-Ronald Webster[5]; 6. 10-Eugene Thomas[1]; 7. 3V-Jim Vanzant[9]; 8. 14-Blake Hendricks[4]; 9. 50S-Rocky Silva[14]; 10. 5E-Elexa Herrera[7]; 11. 99-Bobby Carrick[8]; 12. 10AZ-Steve Tellas[10]; 13. (DNF) 85M-Malyssa Perkins[6]; 14. (DNF) 3-Pete Yerkovich[12]; 15. (DNS) 12-Bobby Marcum; 16. (DNS) 3K-Patrick Krob
A Feature 1 (25 Laps): 1. 4J-Chase Johnson[6]; 2. 15-Kevin Thomas Jr[17]; 3. 41-Ricky Lewis[5]; 4. 57-Stevie Sussex III[20]; 5. 11C-Charles Davis Jr[1]; 6. 51-RJ Johnson[3]; 7. 44-Grant Sexton[4]; 8. 9-Jayme Barnes[10]; 9. 20-Shon Deskins[2]; 10. 19AZ-Hayden Reinbold[11]; 11. 6-Logan Calderwood[12]; 12. 49-Cameron La Rose[18]; 13. 007-Wayne Siddle[8]; 14. 21P-Daylin Perreira[13]; 15. 10-Eugene Thomas[22]; 16. 3V-Jim Vanzant[23]; 17. 21-Austin Ervine[16]; 18. 14-Blake Hendricks[24]; 19. 51W-Ronald Webster[21]; 20. 4C-Jake Swanson[9]; 21. 98-Matt Lundy[15]; 22. 43-Justin Kierce[7]; 23. T5-Dan Taylor[19]; 24. 72-AJ Hernandez[14]
---
Submitted By: Bryan Hulbert
Back to News