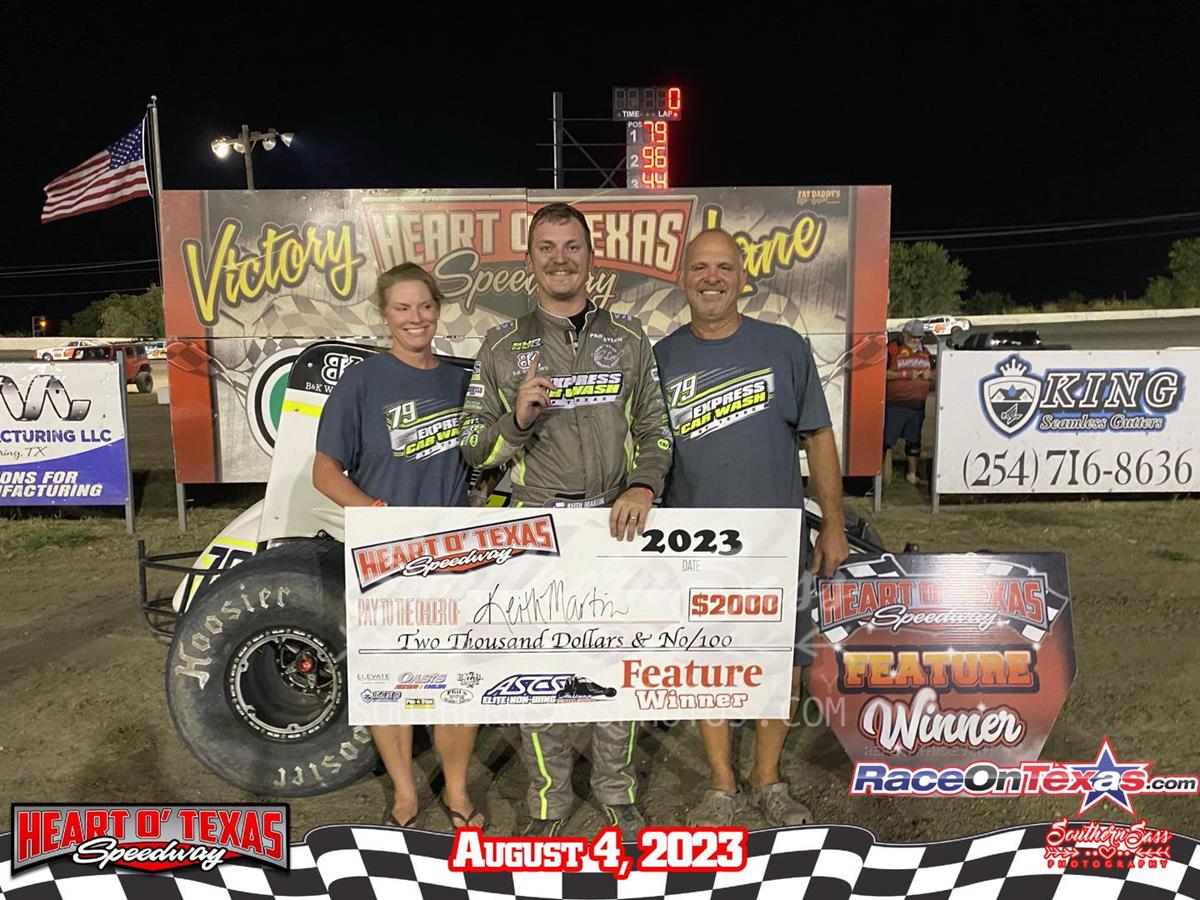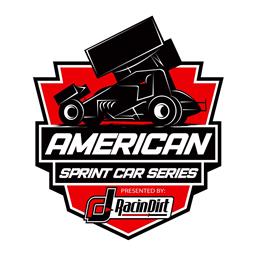 ---
Keith Martin Finds ASCS Elite Non-Wing Win At Heart O' Texas Speedway
(Image Credit: Southern Sass)
Bryan Hulbert - WACO, Texas (August 4, 2023) Landing his ninth career victory with the ASCS Elite Non-Wing Series presented by Abilene Powder Coating on Friday night, Keith Martin topped the Bill White Shootout at Heart O'Texas Speedway at the Heart O' Texas Speedway.
The first time that Martin has topped the annual tribute to Bill White, Keith is the fourth driver to win since 2018, joining Justin Zimmerman (2022), Paul White (2021), Kyle Jones (2020), and Justin Melton (2018 and 2019).
Taking off fifth, Martin made it to second by Lap 3. Chasing Jason Howell for the lead, the No. 79 took over on Lap 8. Keeping pace from there, Martin was eventually stalked by Cody Gardner, who trailed Keith to the finish by 0.498-seconds. Jason Howell would end up third, with Paul White and Caleb Saiz in fifth.
The next event is Saturday, August 5, at the Devil's Bowl Speedway for the Johnny Suggs Classic. Gates opens at 6:00 P.M., with racing at 8:00 P.M. (CDT). Tickets are $15 for adults, $10 for seniors, military, youth (13-15), and free for kids 12 and under. Pits are $35. Other classes include Factory Stocks, Limited Modifieds, and Modifieds.
Devil's Bowl Speedway is located at 1711 Lawson Rd. in Mesquite, Texas. For tickets and directions, log onto http://www.devilsbowl.com or call (972) 222-2421.
The ASCS Elite Wing and Non-Wing Series is owned and operated by Nathan Moore and operates under the sanction of the American Sprint Car Series. Rules for both tours can be found at http://www.ascsracing.com.
Nathan can be reached at (903) 780-9934 or by email at elitenonwingsprints@gmail.com.
The 2023 season will mark the 32nd year of competition for the American Sprint Car Series. Spearheaded by the American Sprint Car Series National Tour, the ASCS Nation includes Regional Tours that encompass both wing and non-wing competition.
For other news, notes, and information on any of the tours under the ASCS banner, log onto http://www.ascsracing.com, follow on Facebook, Instagram, and Twitter (@ASCSRacing).
Race Results:
ASCS Elite Non-Wing
Heart O' Texas Speedway (Waco, Texas)
Friday, August 4, 2023
Boxwell Heavy Haul Heat 1 (8 Laps): 1. 1-Paul White[1]; 2. G6-Cody Gardner[5]; 3. 44-Jason Howell[7]; 4. 72-Gary Floyd[3]; 5. 42-Caleb Saiz[6]; 6. 10-Bryan Debrick[4]; 7. 48-LJ Moore[2]; 8. 1W-BP White[8]
Texas Aeroplastics Heat 2 (8 Laps): 1. 79-Keith Martin[3]; 2. 16-Anthony Nicholson[2]; 3. 31-Mason Smith[5]; 4. 79F-Cooper Sullivan[1]; 5. 63-Chris Williams[6]; 6. 47-Chipper Wood[7]; 7. 38-Bryson Oeschger[4]; 8. 17T-Tyler Harris[8]; 9. (DNS) 11-Greg Wade
Top Choice Masonry A Feature 1 (20 Laps): 1. 79-Keith Martin[5]; 2. G6-Cody Gardner[4]; 3. 44-Jason Howell[1]; 4. 1-Paul White[2]; 5. 42-Caleb Saiz[8]; 6. 63-Chris Williams[9]; 7. 16-Anthony Nicholson[6]; 8. 10-Bryan Debrick[12]; 9. 72-Gary Floyd[7]; 10. 38-Bryson Oeschger[13]; 11. 31-Mason Smith[3]; 12. 17T-Tyler Harris[15]; 13. 1W-BP White[16]; 14. 48-LJ Moore[14]; 15. 79F-Cooper Sullivan[10]; 16. 47-Chipper Wood[11]; 17. (DNS) 11-Greg Wade
---
Submitted By: Bryan Hulbert
Back to News