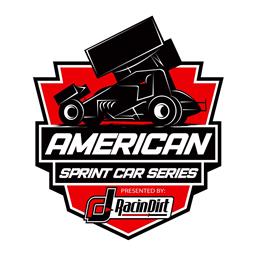 ---
Hagar Tops ASCS Mid-South/Hurricane Super Sprint Showdown At Jackson
(Image Credit: Chris McDill)
Bryan Hulbert - BYRAM, Miss. (July 29, 2023) Collecting his 18th career victory with the ASCS Mid-South Region and first of the year with the ASCS Hurricane Super Sprints at Jackson Motor Speedway, Derek Hagar got to the lead on Lap 1 and stayed there the entire 25 laps.
Having to deal with a heavy surface, thanks to mother nature, Hagar worked middle to bottom around the Mississippi oval with Jan Howard and Landon Crawley in pursuit. Working a lane higher than nearly everyone the entire race, Crawley closed fast on Howard for the runner-up spot on Lap 20, but would get bit by the wall off the second turn. Landon was ok after getting upside down.
Restarting with five laps to run, Michael Miller would take over the line that Crawley was utilizing and move into second. Reeling in Hagar on the final lap, the No. 4 came close but would not deny Derek his 13th win of the season.
Jan Howard in third, was followed by Chase Howard in fourth, and Ronny Howard in fifth.
Special thanks to the Jackson Motor Speedway crew for working through the rain and providing teams and fans a place to race, and thank you to the teams who participated in Saturday's event.
The 2023 season will mark the 32nd year of competition for the American Sprint Car Series. Spearheaded by the American Sprint Car Series National Tour, the ASCS Nation includes Regional Tours that encompass both wing and non-wing competition.
For other news, notes, and information on any of the tours under the ASCS banner, log onto http://www.ascsracing.com, follow on Facebook, Instagram, and Twitter (@ASCSRacing)
Race Results:
ASCS Mid-South vs. Hurricane Super Sprints
Jackson Motor Speedway (Byram, Miss.)
Saturday, July 29, 2023
Heat 1 (8 Laps): 1. 9JR-Derek Hagar[2]; 2. 187-Landon Crawley[4]; 3. 21-Butch David[1]; 4. 28S-Rusty Sanford[5]; 5. 88-Brandon Blenden[7]; 6. 13-Todd Fayard[6]; 7. 17-Adam Moneyhun[3]; 8. (DNS) 9-Lane Whittington
Heat 2 (8 Laps): 1. 4M-Michael Miller[1]; 2. 13C-Chase Howard[3]; 3. 44-Ronny Howard[4]; 4. 67-Blake Mallette[6]; 5. B52-Bill Mason[7]; 6. (DNS) 83-Blake Carrier; 7. (DNS) 3-Cary Farmer; 8. (DQ) 1D-Prestin Dalton[2]
Heat 3 (8 Laps): 1. 121-Jan Howard[3]; 2. 56-Jeff Smith[4]; 3. 121X-Todd Bliss[2]; 4. 2H-Tommy Hall[5]; 5. 61-Sean Wimpee[1]; 6. (DNS) 13X-Jake Brashier; 7. (DNS) 21M-Spencer Meredith
A Feature (25 Laps): 1. 9JR-Derek Hagar[2]; 2. 4M-Michael Miller[5]; 3. 121-Jan Howard[1]; 4. 13C-Chase Howard[6]; 5. 44-Ronny Howard[7]; 6. 56-Jeff Smith[4]; 7. 21-Butch David[12]; 8. 88-Brandon Blenden[13]; 9. 13-Todd Fayard[16]; 10. 28S-Rusty Sanford[10]; 11. 2H-Tommy Hall[11]; 12. 83-Blake Carrier[17]; 13. 13X-Jake Brashier[19]; 14. 67-Blake Mallette[8]; 15. 187-Landon Crawley[3]; 16. 121X-Todd Bliss[9]; 17. B52-Bill Mason[14]; 18. 61-Sean Wimpee[15]; 19. 3-Cary Farmer[18]; 20. (DNS) 1D-Prestin Dalton; 21. (DNS) 21M-Spencer Meredith; 22. (DNS) 17-Adam Moneyhun; 23. (DNS) 9-Lane Whittington
---
Submitted By: Bryan Hulbert
Back to News