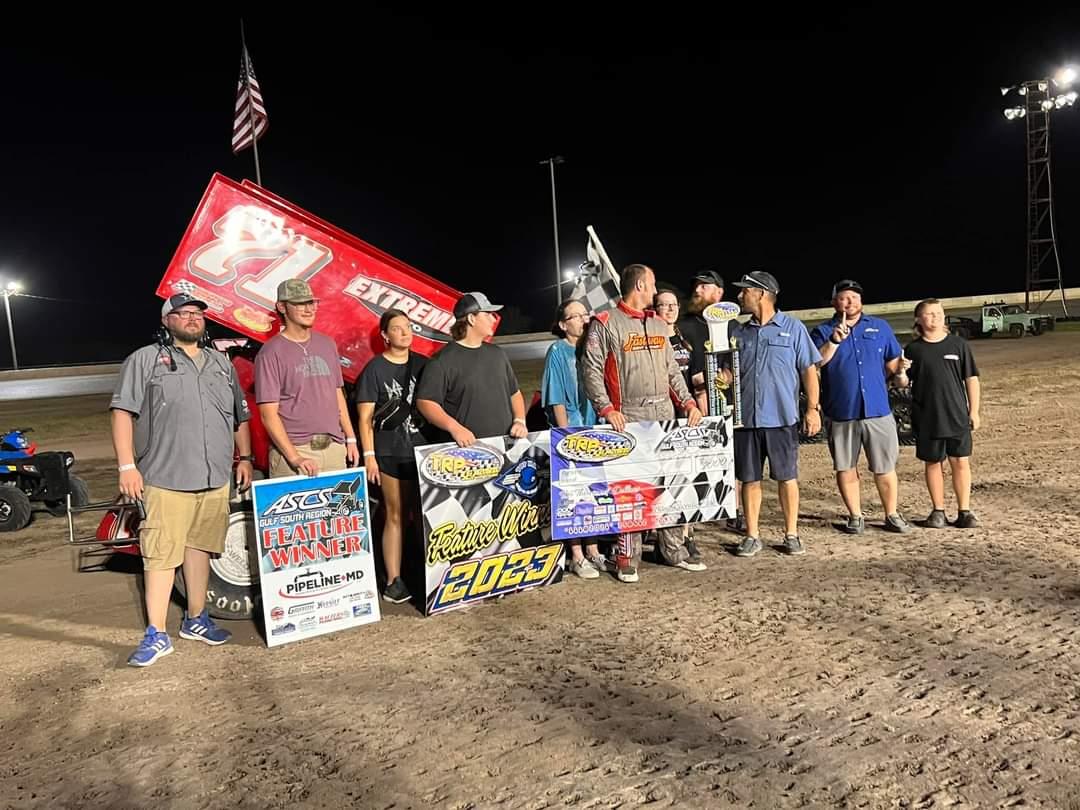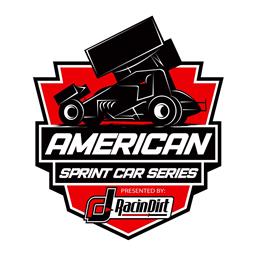 ---
Tankersley Takes ASCS Gulf South Checkers At Texana
Bryan Hulbert – EDNA, Texas (July 22, 2023) Same story, new era for the ASCS Gulf South Region presented by Fast 5 Solutions and Pipeline+MD, as the series returned to action Saturday night at Texana Raceway Park with former series champion Channin Tankersley leading all by one lap.
Getting by Jacob Harris on the second revolution, the driver of the Davis Drug and Alcohol Testing No. 71 dominated by 6.612-seconds for his 28th career ASCS Gulf South win, which ties Ray Allen Kulhanek for second all-time with the series.
Chase Shubert picked up to spots to third, with Dustyn Welch in fourth. Tyler Harris completed the top five. Ray Allen Kulhanek charged forward two spots to sixth, followed by Chris Williams, Blaine Baxter, Chris Sweeney, and Willy Reed to make up the top ten.
Another event is scheduled for Saturday, September 30, at Cotton Bowl Speedway.
Support for the ASCS Gulf South Region is provided by Fast 5 Solutions, Pipeline+MD, Griffith Truck and Equipment, Precision Spray Foam, C4 Branding, What Makes Us Fire Foundation, Dusty Moon Veterinary Service, Top Coat Fabrication, Willy's Racing Products, and Integrity Cleaning.
Chris Walters (Walters Promotions, LLC) is the ASCS Gulf South Region director. Anyone with questions about the series can call Chris at (281) 475-1919.
The 2023 season will mark the 32nd year of competition for the American Sprint Car Series. Spearheaded by the American Sprint Car Series National Tour, the ASCS Nation includes Regional Tours that encompass both wing and non-wing competition.
For other news, notes, and information on any of the tours under the ASCS banner, log onto http://www.ascsracing.com, follow on Facebook, Instagram, and Twitter (@ASCSRacing)
Race Results:
ASCS Gulf South Region
Texana Raceway Park (Edna, Texas)
Saturday, July 22, 2023
Heat 1 (8 Laps): 1. 67-Dustyn Welch[3]; 2. 24X-Tyler Harris[2]; 3. 85-Josh McCord[4]; 4. 22L-Kent Lewis Jr[6]; 5. 64-Mark Zoeller[5]; 6. 25B-Blaine Baxter[1]
Heat 2 (8 Laps): 1. 26-Jacob Harris[4]; 2. 93-Chris Sweeney[1]; 3. 63-Chris Williams[2]; 4. 3D-Trent Dixon[3]; 5. 1-Ray Allen Kulhanek[5]
Heat 3 (8 Laps): 1. 71-Channin Tankersley[3]; 2. 1O-Michael Oliver[1]; 3. 31-Chase Shubert[5]; 4. 3W-Willy Reed[4]; 5. 15P-Andrew VanBlarcum[2]
A Feature (20 Laps): 1. 71-Channin Tankersley[3]; 2. 26-Jacob Harris[1]; 3. 31-Chase Shubert[5]; 4. 67-Dustyn Welch[2]; 5. 24X-Tyler Harris[6]; 6. 1-Ray Allen Kulhanek[16]; 7. 63-Chris Williams[10]; 8. 25B-Blaine Baxter[14]; 9. 93-Chris Sweeney[4]; 10. 3W-Willy Reed[11]; 11. 85-Josh McCord[8]; 12. 22L-Kent Lewis Jr[9]; 13. 64-Mark Zoeller[12]; 14. 1O-Michael Oliver[7]; 15. 3D-Trent Dixon[15]; 16. 15P-Andrew VanBlarcum[13]
---
Submitted By: Bryan Hulbert
Back to News