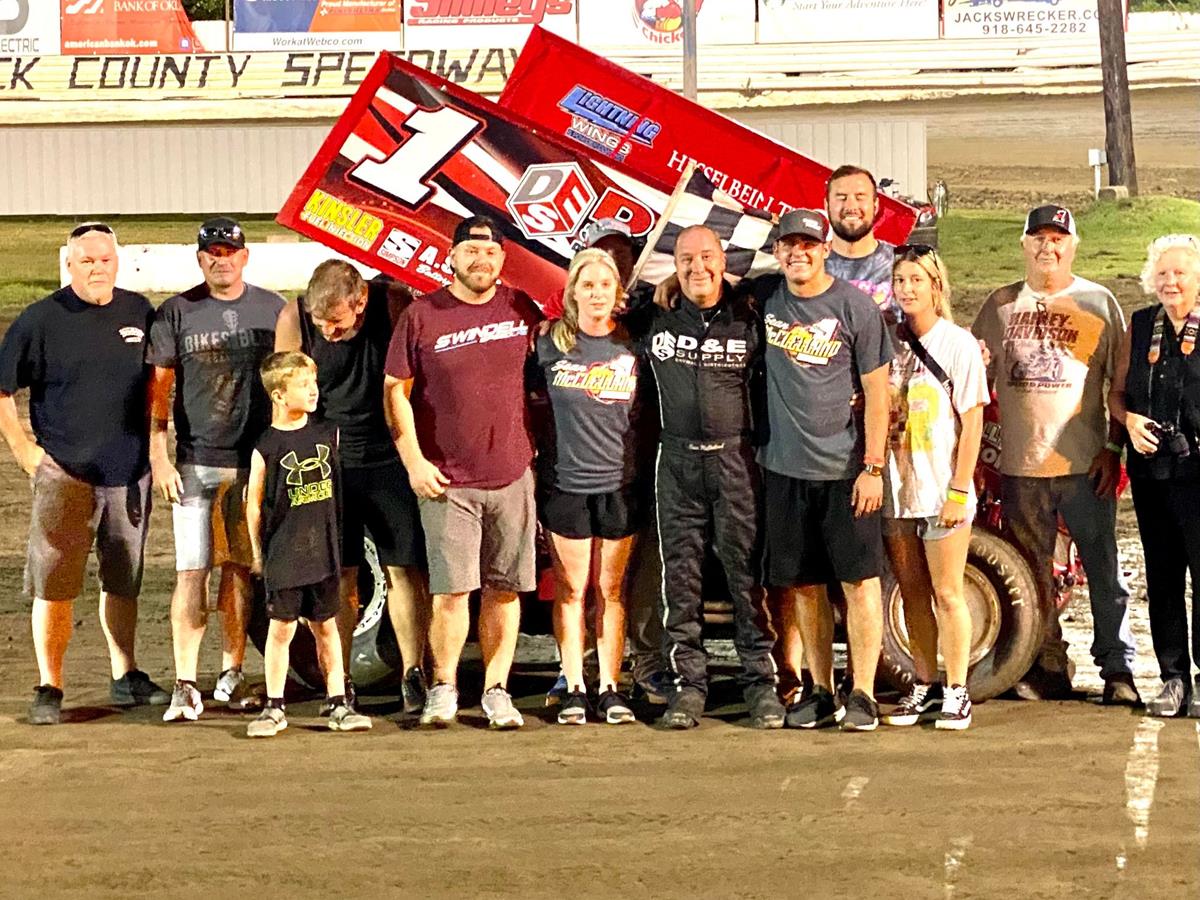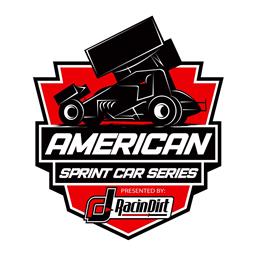 ---
Sean McClelland Leads All With ASCS Sooner Region At Creek County Speedway!
(Image Credit: Dave Smith, Jr.)
Bryan Hulbert – SAPULPA, Okla. (July 21, 2023) Adding a 22nd win to his career total with the American Bank of Oklahoma ASCS Sooner Region presented by Smiley's Racing Products at Creek County Speedway, Tulsa's Sean McClelland collected the night's $2,000 prize after leading start-to-finish at the quarter-mile-oval Friday night.
Able to put distance on Chase Porter in clean air, slower traffic would allow the Missouri shoe to close. Both on the brakes as a slower car lost power off the second turn working Lap 6; the race went to red as third running, Kyle Clark, tapped Sean's left rear and sent him flipping into the infield.
Back to green for five more laps, Sean again pulled away before the caution flew for debris on the track. At speed through Lap 23, the restart with two to go saw Porter try top and bottom. Taking one last shot through the final two turns, Sean McClelland would not be denied the win, with the No. 1 bolting away by 0.327-seconds.
Chase Porter, in second, was followed by Brandon Anderson, who, after getting upside down during his Heat, had to charge from 18th. Alex Sewell crossed fourth, with Tennessee's Landon Britt in fifth. Jeffrey Newell made up two spots to finish sixth, followed by Casey Wills up four positions. Making up 11 spots, Kinzer Edwards crossed eighth, followed by Terry Easum and Matt Ward to complete the top ten.
Special thank to OklahomaTidbits.com for giving each Heat Race winner, and the Hard Charger an extra $50.
The American Bank of Oklahoma ASCS Sooner Region presented by Smiley's Racing Products races next with the American Sprint Car Series presented by RacinDirt.com on Saturday, July 22 at 81-Speedway in Park City, Kan. Gates at 3:00 P.M. for the pits and 5:00 P.M. for the stands. Hot Laps are at 6:00 P.M., with racing at 7:00 P.M. (CDT). Tickets are $25 for adults, $20 for seniors and military, and free for kids 10 and under. Other divisions include the JLR Property Management 316 A-Mods, and AutoTech Service Super Stocks.
81-Speedway is located at 7700 N Broadway in Park City, Kan. More information can be found online at https://www.81speedway.com.
The 2023 season will mark the 32nd year of competition for the American Sprint Car Series. Spearheaded by the American Sprint Car Series National Tour, the ASCS Nation includes Regional Tours that encompass both wing and non-wing competition.
Live coverage of the American Sprint Car Series can be found at http://www.racindirt.com. Fans can choose to subscribe for $32.99 a month or $199.99 a year. RacinDirt.com broadcasts can be viewed on your Smart TV, Mobile Devices, and your Laptop or Computer. New subscribers can receive 25% off when they use promo code ASCS2023 at checkout.
For other news, notes, and information on any of the tours under the ASCS banner, log onto http://www.ascsracing.com, follow on Facebook, Instagram, and Twitter (@ascsracing).
Race Results:
ASCS Sooner Region
Creek County Speedway (Sapulpa, Okla.)
Friday, July 21, 2023
Heat 1 (8 Laps): 1. 88-Terry Easum[1]; 2. 1T-Matt Ward[2]; 3. 12-Jeffrey Newell[5]; 4. 31-Casey Wills[6]; 5. 26M-Fred Mattox[4]; 6. 7F-Kinzer Edwards[3]; 7. 55B-Brandon Anderson[8]; 8. 91-Michael Day[7]
Heat 2 (8 Laps): 1. 2-Chase Porter[2]; 2. 1-Sean McClelland[6]; 3. 9$-Kyle Clark[7]; 4. 17-Wout Hoffmans[8]; 5. 90-Lance Norick[4]; 6. 15D-Andrew Deal[5]; 7. 1H-Jared Higgins[1]; 8. 32D-Daryn Langford[3]
Heat 3 (8 Laps): 1. 10-Landon Britt[2]; 2. 3-Howard Moore[1]; 3. 8-Alex Sewell[6]; 4. 38-Jimmy Forrester[3]; 5. 13-Elijah Gile[5]; 6. 97-Kevin Cummings[7]; 7. 2B-Brett Becker[4]
A Main (25 Laps): 1. 1-Sean McClelland[1]; 2. 2-Chase Porter[2]; 3. 55B-Brandon Anderson[18]; 4. 8-Alex Sewell[5]; 5. 10-Landon Britt[4]; 6. 12-Jeffrey Newell[8]; 7. 31-Casey Wills[11]; 8. 7F-Kinzer Edwards[19]; 9. 88-Terry Easum[6]; 10. 1T-Matt Ward[9]; 11. 26M-Fred Mattox[14]; 12. 13-Elijah Gile[13]; 13. 38-Jimmy Forrester[12]; 14. 90-Lance Norick[15]; 15. 17-Wout Hoffmans[7]; 16. 3-Howard Moore[10]; 17. 97-Kevin Cummings[16]; 18. 9$-Kyle Clark[3]; 19. 91-Michael Day[21]; 20. 32D-Daryn Langford[23]; 21. 2B-Brett Becker[20]; 22. 15D-Andrew Deal[17]; 23. (DNS) 1H-Jared Higgins
---
Submitted By: Bryan Hulbert
Back to News