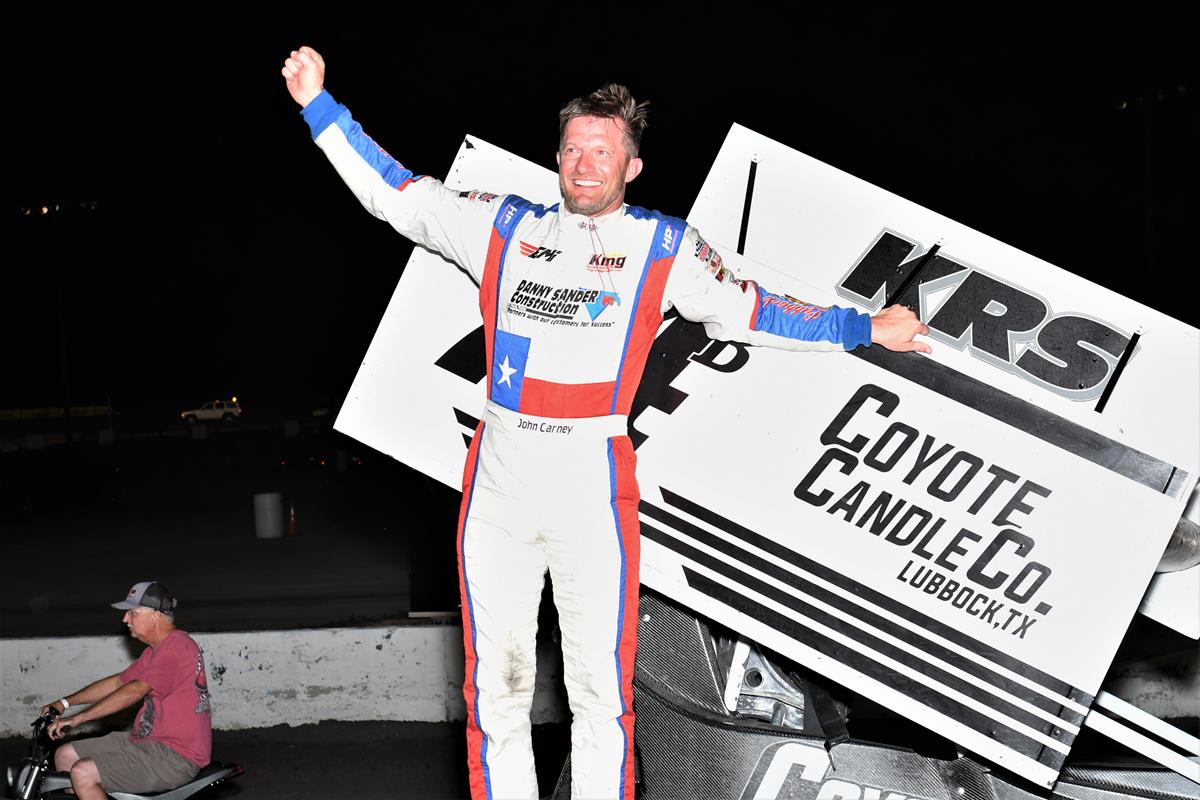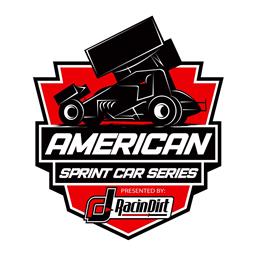 ---
John Carney II Tops ASCS Elite Outlaw At The Devil's Bowl Speedway!
(Image Credit: James Vick)
Bryan Hulbert – MESQUITE, Texas (July 8, 2023) Becoming the first repeat winner with the MYCO Plastics ASCS Elite Outlaw Sprints, El Paso's John Carney II wheeled the Coyote Candle Co. No. 74b into Victory Lane Saturday night at the famed Devil's Bowl Speedway.
Taking off from sixth, John picked his way to the runner-up spot by Lap 7. Chasing Austin Mundie for the point, Austin worked the top at both ends of the half-mile oval while John worked varying lines. Getting a run to the bottom of the speedway through the first and second turns, John drove by for the point on Lap 11.
Red on Lap 12 for Blain Baxter, the race resumed with John quickly pulling away to a 2.542-second advantage at the finish. Mundie crossed second with Friday night's winner, Marcus Thomas, in third. Tucker Doughty made up eight positions for a fourth-place finish, while Roger Crockett, who came to a stop running second on Lap 4, rebounded to a top-five.
Martin Edwards rolled 11th to sixth, followed by a massive 18-position gain for Cody Gardner, who moved 25th to seventh. Jason Howell, Jeff Day, Jr., and Michelle Parson comprised the top ten.
The MYCO Plastics ASCS Elite Outlaw Sprints race again on Saturday, July 22 at Ark-La-Tex Speedway.
The ASCS Elite Wing and Non-Wing Series is owned and operated by Nathan Moore and operates under the sanction of the American Sprint Car Series. Rules for both tours can be found at http://www.ascsracing.com.
Nathan can be reached at (903) 780-9934 or by email at elitenonwingsprints@gmail.com.
The 2023 season will mark the 32nd year of competition for the American Sprint Car Series. Spearheaded by the American Sprint Car Series National Tour, the ASCS Nation includes Regional Tours that encompass both wing and non-wing competition.
For other news, notes, and information on any of the tours under the ASCS banner, log onto http://www.ascsracing.com, follow on Facebook, Instagram, and Twitter (@ASCSRacing)
Race Results:
ASCS Elite Outlaw
Devil's Bowl Speedway (Mesquite, Texas)
Saturday, July 8, 2023
Abilene Powder Coating Heat 1 (8 Laps): 1. 4-Austin Mundie[1]; 2. 44-Jason Howell[8]; 3. 10G-Marcus Thomas[5]; 4. 25B-Blaine Baxter[7]; 5. 15-Chip Graham[2]; 6. 15C-Michael Colaluca[4]; 7. 48-Lonnie Moore[10]; 8. 47W-Chipper Wood[9]; 9. 1-Paul White[3]; 10. 99X-Dalton Stevens[6]
Texas Aeroplastics Heat 2 (8 Laps): 1. 74B-John Carney II[2]; 2. 45-Martin Edwards[1]; 3. 2B-Brett Becker[6]; 4. #1-Justin Zimmerman[8]; 5. 01J-Jeb Sessums[5]; 6. 9-Claude Estes[4]; 7. 20-Chad Wilson[3]; 8. 16-Blake Baccus[7]; 9. G6-Cody Gardner[9]
Boxwell Heavy Haul Heat 3 (8 Laps): 1. 1J-Danny Jennings[2]; 2. 11-Roger Crockett[4]; 3. 2X-Tucker Doughty[3]; 4. 85-Colby Stubblefield[7]; 5. 21-Michelle Parson[5]; 6. 3D-Jeff Day Jr[6]; 7. 6M-Blake Mallory[1]; 8. 45B-Casey Burkham[9]; 9. 17-Matt Etzelmiller[8]
B Feature (12 Laps): 1. 3D-Jeff Day Jr[1]; 2. 99X-Dalton Stevens[12]; 3. 45B-Casey Burkham[5]; 4. 9-Claude Estes[3]; 5. 16-Blake Baccus[7]; 6. 20-Chad Wilson[6]; 7. 6M-Blake Mallory[8]; 8. 47W-Chipper Wood[4]; 9. 15C-Michael Colaluca[2]; 10. (DNS) 17-Matt Etzelmiller; 11. (DNS) 1-Paul White; 12. (DNS) G6-Cody Gardner
Accel Compressions A Feature (25 Laps): 1. 74B-John Carney II[6]; 2. 4-Austin Mundie[2]; 3. 10G-Marcus Thomas[8]; 4. 2X-Tucker Doughty[12]; 5. 11-Roger Crockett[3]; 6. 45-Martin Edwards[11]; 7. G6-Cody Gardner[25]; 8. 44-Jason Howell[1]; 9. 3D-Jeff Day Jr[17]; 10. 21-Michelle Parson[15]; 11. 16-Blake Baccus[21]; 12. 01J-Jeb Sessums[14]; 13. 85-Colby Stubblefield[10]; 14. 15-Chip Graham[16]; 15. 25B-Blaine Baxter[9]; 16. 99X-Dalton Stevens[18]; 17. 47W-Chipper Wood[22]; 18. 1J-Danny Jennings[4]; 19. #1-Justin Zimmerman[7]; 20. 45B-Casey Burkham[19]; 21. 9-Claude Estes[20]; 22. 48-Lonnie Moore[13]; 23. (DNS) 2B-Brett Becker; 24. (DNS) 20-Chad Wilson; 25. (DNS) 6M-Blake Mallory
---
Submitted By: Bryan Hulbert
Back to News