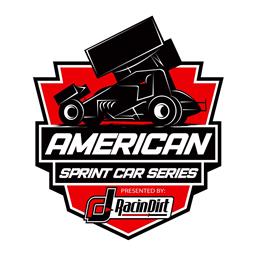 ---
Marcus Thomas Romps ASCS Elite Outlaw At Heart O' Texas Speedway
(Image Credit: David Smith, Jr.)
Bryan Hulbert - WACO, Texas (July 7, 2023) Five races in with just as many winners, the MYCO Plastics ASCS Elite Outlaw Sprints invaded the Heart O' Texas Speedway on Friday night with Marcus Thomas parking in Victory Lane for the first time in ASCS competition.
Back and forth with John Carney II for the point, the opening four laps were led by the No. 10g before Carney took over. Wheeling the Coyote Candle Co. No. 74b around the bottom of the quarter-mile-oval at first, John jumped topside to take the point from Marcus.
Keeping Carney in sight, a lane change in traffic allowed Thomas to begin trading slide jobs for the top spot. Back and forth for several laps, Thomas was finally able to pick Carney with a lapped car to retake the lead on Lap 17.
Stalked next by Cody Garder, who made it by the No. 74b as well, Cody slipped through the top of the first and second turns on the final lap, allowing Thomas to run away to the win with Carney able to retake second. Cody recovered to finish third, with Paul White and Jason Howell making up the top five.
From the quarter-mile to the half-mile, the next outing is Saturday, July 8, at the Devi's Bowl Speedway in Mesquite, Texas. Gates opens at 6:00 P.M., with racing at 8:00 P.M. (CDT). Tickets are $15 for adults, $10 for seniors, military, and youth (13-15), and free for kids 12 and under. Pits are $35.
Devil's Bowl Speedway is located at 1711 Lawson Rd. in Mesquite, Texas. For tickets and directions, log onto http://www.devilsbowl.com or call (972) 222-2421.
The ASCS Elite Wing and Non-Wing Series is owned and operated by Nathan Moore and operates under the sanction of the American Sprint Car Series. Rules for both tours can be found at http://www.ascsracing.com.
Nathan can be reached at (903) 780-9934 or by email at elitenonwingsprints@gmail.com.
The 2023 season will mark the 32nd year of competition for the American Sprint Car Series. Spearheaded by the American Sprint Car Series National Tour, the ASCS Nation includes Regional Tours that encompass both wing and non-wing competition.
For other news, notes, and information on any of the tours under the ASCS banner, log onto http://www.ascsracing.com, follow on Facebook, Instagram, and Twitter (@ASCSRacing).
Race Results:
ASCS Elite Outlaw
Heart O' Texas Speedway (Waco, Texas)
Friday, July 7, 2023
Abilene Powder Coating Heat 1 (8 Laps): 1. 74B-John Carney II[1]; 2. 10G-Marcus Thomas[8]; 3. 47W-Chipper Wood[4]; 4. 21-Michelle Parson[5]; 5. 5X-Michael Dabney[2]; 6. 17T-Tyler Harris[9]; 7. 9-Kevin Rutherford[6]; 8. 01J-Jeb Sessums[3]; 9. 20-Chad Wilson[7]
Texas Aeroplastics Heat 2 (8 Laps): 1. 4-Austin Mundie[4]; 2. 2B-Brett Becker[2]; 3. 6M-Blake Mallory[3]; 4. 45B-Casey Burkham[6]; 5. 85-Colby Stubblefield[7]; 6. 15-Michael Colaluca[5]; 7. 23-Junior Jenkins[8]; 8. 3D-Jeff Day Jr[1]
Boxwell Heavy Haul Heat 3 (8 Laps): 1. 1-Paul White[1]; 2. G6-Cody Gardner[7]; 3. 44-Jason Howell[4]; 4. 25B-Blaine Baxter[3]; 5. 74E-Claude Estes[2]; 6. 4X-Heath Nestrick[5]; 7. 48-Lonnie Moore[8]; 8. 99X-Dalton Stevens[6]
M1 Fabrications B Feature 1 (10 Laps): 1. 15-Michael Colaluca[1]; 2. 20-Chad Wilson[6]; 3. 01J-Jeb Sessums[5]; 4. 9-Kevin Rutherford[4]; 5. 4X-Heath Nestrick[2]; 6. 23-Junior Jenkins[3]; 7. 3D-Jeff Day Jr[7]; 8. 48-Lonnie Moore[8]; 9. 99X-Dalton Stevens[9]
Accel Compressions A Feature 1 (20 Laps): 1. 10G-Marcus Thomas[1]; 2. 74B-John Carney II[5]; 3. G6-Cody Gardner[3]; 4. 1-Paul White[2]; 5. 44-Jason Howell[8]; 6. 25B-Blaine Baxter[14]; 7. 85-Colby Stubblefield[12]; 8. 01J-Jeb Sessums[17]; 9. 21-Michelle Parson[11]; 10. 74E-Claude Estes[16]; 11. 6M-Blake Mallory[10]; 12. 9-Kevin Rutherford[20]; 13. 17T-Tyler Harris[19]; 14. 5X-Michael Dabney[13]; 15. 47W-Chipper Wood[7]; 16. 15-Michael Colaluca[15]; 17. 45B-Casey Burkham[9]; 18. 20-Chad Wilson[18]; 19. 2B-Brett Becker[4]; 20. 4-Austin Mundie[6]
---
Submitted By: Bryan Hulbert
Back to News