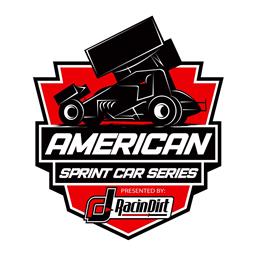 ---
Joe B. Miller Breaks Through With ASCS National At Lake Ozark Speedway!
(Image Credit: Pat Grant)
Bryan Hulbert – ELDON, Mo. (May 27, 2023) So many laps led over the years. Finally, Missouri's Joe B. Miller led the last one Saturday night at Lake Ozark Speedway for his first career victory with the National Tour of the American Sprint Car Series.
The 166th different winner with the American Sprint Car Series, Joe became the 13th Missourian to win with the National Tour, joining names like Brian Brown, Danny Lasoski, and Jesse Hockett to name a few.
Almost a spectator, Joe B. Miller borrowed an engine from Scotty Milan, as his is still getting worked on. "I have to thank Scotty Milan. We didn't have an engine for this weekend, and he wasn't able to come in, so I called and asked if I could use his, and he said go for it."
Adding to his success across numerous divisions at Lake Ozark, Joe said, "We got the regional win, but we've been working on getting this National Tour win for a little bit. We've been hit and miss, so this is pretty cool. It's a relief really. We were talking this week that we've been pretty good here in just about everything. We were just lacking the National Tour win."
Getting the lead from the start, Miller had to fend of Seth Bergman with five laps to go. Moving just off the cushion, the Corridor Electric No. 23 was quick to Miller's back bumper. Pulling under the No. 51b off the fourth turn, Seth got next to Joe, but could not clear into the first turn. Going on the defense, Miller adjusted and held on for the win.
Slipping by for second on Lap 22, Jason Martin posted his 20th career ASCS National podium finish. Pushing his podium streak to six on the season, Seth Bergman grabbed third. Moving up from 11th, Landon Britt crossed fourth, with Howard Moore fifth.
Kyle Bellm, in sixth, was chased by Miles Paulus, who was the night's KSE Hard Charger, after gaining 11 positions. Matt Covington was eighth, with Brandon Anderson ninth. Moving up ten spots, Michael Day completed the top ten.
Night 1 of the Spring Sprint Showdown included a 32-car field with Blake Hahn, the overall quick qualifier at 12.389-seconds. Four AR Dyno Specialty Heat Races went to Matt Covington, Howard Moore, Seth Bergman, and Joe B. Miller. The BMRS B-Feature was won by Gunner Ramey.
The Spring Sprint Showdown at Lake Ozark Speedway continues on Sunday, May 28. Hot Laps are at 6:30 P.M. and Racing at 7:30 P.M. (CDT). Tickets are $25 for adults, $22 for seniors, $10 for youth (6-12), and $40 for the Pits.
The 2023 season will mark the 32nd year of competition for the American Sprint Car Series. Spearheaded by the American Sprint Car Series National Tour, the ASCS Nation includes Regional Tours that encompass both wing and non-wing competition.
Live coverage of the American Sprint Car Series can be found on http://www.racindirt.com.
For other news, notes, and information on any of the tours under the ASCS banner, log onto http://www.ascsracing.com, follow on Facebook, Instagram, and Twitter (@ASCSRacing).
Race Results:
ASCS National/ASCS Warrior
Lake Ozark Speedway (Eldon, Mo.)
Saturday, May 27, 2023
Car Count: 32
The Driver's Project Group Qualifying (Top 4 in each group invert into Heat Races)
The Drivers Project Qualifying 1 (3 Laps): 1. 13-Elijah Gile, 12.517[6]; 2. 45X-Kyler Johnson, 12.550[7]; 3. 7C-Chris Morgan, 12.626[1]; 4. 95-Matt Covington, 12.626[5]; 5. 14E-Kyle Bellm, 12.667[4]; 6. 55B-Brandon Anderson, 12.757[3]; 7. 88-Terry Easum, 12.839[2]; 8. 7JR-JD Black, 13.196[8]
The Drivers Project Qualifying 2 (3 Laps): 1. 87J-Jace Park, 12.466[8]; 2. 3-Howard Moore, 12.549[5]; 3. 22S-Slater Helt, 12.588[7]; 4. 8M-Kade Morton, 12.787[1]; 5. 1JR-Steven Russell, 12.799[2]; 6. 91-Michael Day, 12.806[4]; 7. 1X-Brad Ryun, 13.008[6]; 8. 9M-Dale McCarty, 14.597[3]
The Drivers Project Qualifying 3 (3 Laps): 1. 52-Blake Hahn, 12.389[5]; 2. 36-Jason Martin, 12.427[6]; 3. 23-Seth Bergman, 12.490[2]; 4. 0-Chase Porter, 12.577[8]; 5. 71-Bradyn Baker, 12.673[4]; 6. 98P-Miles Paulus, 12.783[1]; 7. 21-Gunner Ramey, 12.783[7]; 8. 31-Casey Wills, 13.050[3]
The Drivers Project Qualifying 4 (3 Laps): 1. 51B-Joe B Miller, 12.748[8]; 2. 6-Christopher Townsend, 12.839[5]; 3. 77-Jack Wagner, 12.931[6]; 4. 14-Jordon Mallett, 12.979[2]; 5. 73-Samuel Wagner, 13.066[1]; 6. 10-Landon Britt, 13.128[4]; 7. 32D-Daryn Langford, 13.543[3]; 8. 9C-Tony Crank, 13.797[7]
AR Dyno Specialty Heat Races (Top 16 in Qualifying/Passing Points advance to the A-Feature)
AR Dyno Specialty Heat 1 (8 Laps): 1. 95-Matt Covington[1]; 2. 7C-Chris Morgan[2]; 3. 14E-Kyle Bellm[5]; 4. 55B-Brandon Anderson[6]; 5. 45X-Kyler Johnson[3]; 6. 7JR-JD Black[8]; 7. 13-Elijah Gile[4]; 8. 88-Terry Easum[7]
AR Dyno Specialty Heat 2 (8 Laps): 1. 3-Howard Moore[3]; 2. 8M-Kade Morton[1]; 3. 22S-Slater Helt[2]; 4. 1JR-Steven Russell[5]; 5. 87J-Jace Park[4]; 6. 91-Michael Day[6]; 7. 1X-Brad Ryun[7]; 8. (DNS) 9M-Dale McCarty
AR Dyno Specialty Heat 3 (8 Laps): 1. 23-Seth Bergman[2]; 2. 36-Jason Martin[3]; 3. 52-Blake Hahn[4]; 4. 0-Chase Porter[1]; 5. 98P-Miles Paulus[6]; 6. 71-Bradyn Baker[5]; 7. 31-Casey Wills[8]; 8. 21-Gunner Ramey[7]
AR Dyno Specialty Heat 4 (8 Laps): 1. 51B-Joe B Miller[4]; 2. 14-Jordon Mallett[1]; 3. 77-Jack Wagner[2]; 4. 10-Landon Britt[6]; 5. 73-Samuel Wagner[5]; 6. 6-Christopher Townsend[3]; 7. 9C-Tony Crank[8]; 8. 32D-Daryn Langford[7]
BMRS B-Feature (Top 6 advance to the A-Feature)
BMRS B-Main 1 (12 Laps): 1. 45X-Kyler Johnson[1]; 2. 98P-Miles Paulus[2]; 3. 6-Christopher Townsend[6]; 4. 91-Michael Day[8]; 5. 71-Bradyn Baker[9]; 6. 21-Gunner Ramey[13]; 7. 0-Chase Porter[7]; 8. 31-Casey Wills[10]; 9. 73-Samuel Wagner[3]; 10. 1X-Brad Ryun[12]; 11. 13-Elijah Gile[5]; 12. 9C-Tony Crank[11]; 13. 7JR-JD Black[4]; 14. 32D-Daryn Langford[15]; 15. 88-Terry Easum[14]; 16. 9M-Dale McCarty[16]
A-Feature
RacinDirtTV A-Main (25 Laps): 1. 51B-Joe B Miller[1]; 2. 36-Jason Martin[4]; 3. 23-Seth Bergman[5]; 4. 10-Landon Britt[11]; 5. 3-Howard Moore[2]; 6. 14E-Kyle Bellm[8]; 7. 98P-Miles Paulus[18]; 8. 95-Matt Covington[7]; 9. 55B-Brandon Anderson[10]; 10. 91-Michael Day[20]; 11. 22S-Slater Helt[12]; 12. 1JR-Steven Russell[14]; 13. 71-Bradyn Baker[21]; 14. 87J-Jace Park[9]; 15. 6-Christopher Townsend[19]; 16. 8M-Kade Morton[15]; 17. 7C-Chris Morgan[6]; 18. 45X-Kyler Johnson[17]; 19. 14-Jordon Mallett[16]; 20. 21-Gunner Ramey[22]; 21. 52-Blake Hahn[3]; 22. 77-Jack Wagner[13]
Lap Leader(s): Joe B. Miller 1-25
KSE Hard Charger: Miles Paulus +11
Driver's Project Quick Time: Blake Hahn - 12.389-seconds
High Point Driver: Joe B. Miller
Provisional(s): N/A
ASCS Online:
American Sprint Car Series: http://www.ascsracing.com
Facebook: http://www.facebook.com/americansprintcarseries
Twitter: http://www.twitter.com/ascsracing [@ascsracing]
Broadcast: RacinDirt.com
Live-Scoring: My Race Pass App
2023 Race Winners: Jason Martin – 3 (4/20 – Jackson Motor Speedway; 4/22 – Boothill Speedway; 5/20 – Longdale Speedway); Seth Bergman – 1 (4/21 – Longdale Speedway); Austin McCarl – 1 (5/26 – Lakeside Speedway); Joe B. Miller – 1 (5/17 – Lake Ozark Speedway);
2023 Driver Points (Top 10): 1. Seth Bergman 839; 2. Jason Martin 803; 3. Matt Covington 745; 4. Landon Britt 731; 5. Howard Moore 693; 6. Brandon Anderson 691; 7. Jordon Mallett 662; 8. Kyler Johnson 651; Christopher Townsend 598; 10. Brady Baker 588;
---
Submitted By: Bryan Hulbert
Back to News