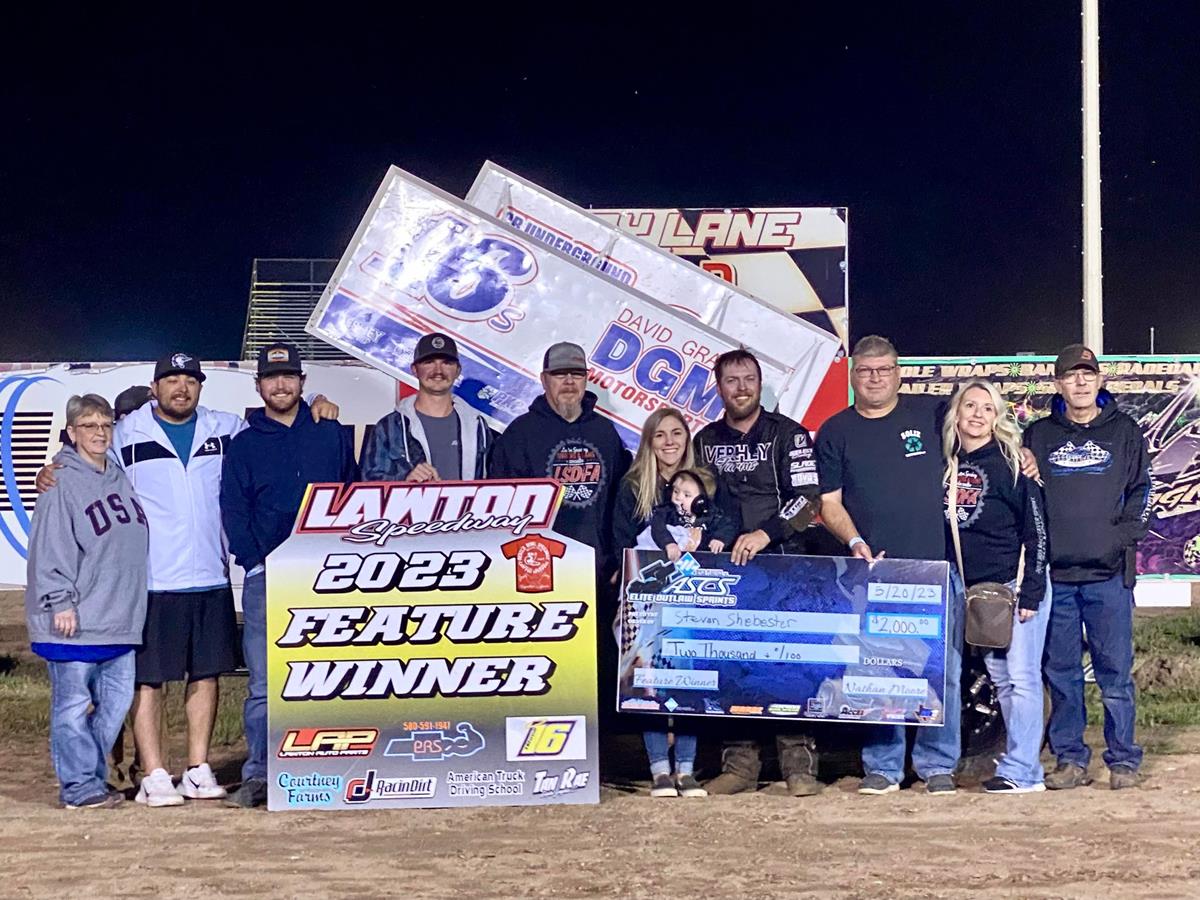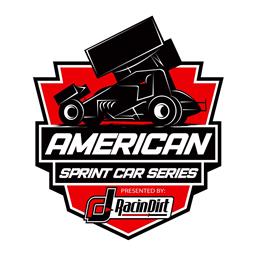 ---
Inaugural ASCS Elite Outlaw Sprint Win Belongs To Steven Shebester At Lawton Speedway
(Image Credit: David Smith, Jr.)
Bryan Hulbert – LAWTON, Okla. (May 20, 2023) Leading all by the first lap on Saturday, Oklahoma's Steven Shebester captured the inaugural A-Feature win with the ASCS Elite Outlaw Sprint Series at Lawton Speedway.
Besting a field of 27 for the $2,000 score, the win is Steven's eighth overall, to go along with seven with the ASCS Elite Non-Wing Series.
Taking the green from third, Shebester worked by Brett Becker and Blaine Baxter through the first revolution. From there, it was all Steven, as the No. 16s stretched his lead by a staggering 6.407-seconds. Rolling up from 12th, Cody Gardner made it to second. Austin Mundie moved ninth to third, with Jeb Sessums fourth. Brett Becker would be credited with fifth after Justin Zimmerman's hard charge from 17th was negated by failing to report directly to the scales after the race. Paul White, Danny Jennings, Blake Mallory, Blaine Baxter, and Cooper Sullivan made up the top ten.
The next event for the ASCS Elite Outlaw Sprints is Friday, June 2 at West Texas Raceway and Saturday, June 3, at Route 55 Motor Speedway.
The ASCS Elite Wing and Non-Wing Series is owned and operated by Nathan Moore and operates under the sanction of the American Sprint Car Series. Rules for both tours can be found at http://www.ascsracing.com.
Nathan can be reached at (903) 780-9934 or by email at elitenonwingsprints@gmail.com.
The 2023 season will mark the 32nd year of competition for the American Sprint Car Series. Spearheaded by the American Sprint Car Series National Tour, the ASCS Nation includes Regional Tours that encompass both wing and non-wing competition.
For other news, notes, and information on any of the tours under the ASCS banner, log onto http://www.ascsracing.com, follow on Facebook, Instagram, and Twitter (@ASCSRacing)
Race Results:
ASCS Elite Outlaw Sprints
Lawton Speedway (Lawton, Okla.)
Saturday, May 20, 2023
Abilene Powder Coating Heat 1 (8 Laps): 1. 1J-Danny Jennings[3]; 2. 16S-Steven Shebester[8]; 3. 01J-Jeb Sessums[6]; 4. 79-Keith Martin[4]; 5. 4-Austin Mundie[9]; 6. 63-Chris Williams[2]; 7. #1-Justin Zimmerman[1]; 8. 98K-Dane Fields[5]; 9. 9$-Kyle Clark[7]
Texas Aeroplastics Heat 2 (8 Laps): 1. 2B-Brett Becker[2]; 2. 25B-Blaine Baxter[4]; 3. 21K-Kobe Simpson[3]; 4. G6-Cody Gardner[5]; 5. 33C-Casey Carter[1]; 6. 99J-Cooper Sullivan[9]; 7. 5B-Brock Cottrell[8]; 8. 47W-Chipper Wood[7]; 9. 5R-John Ricketts[6]
Boxwell Heavy Haul Heat 3 (8 Laps): 1. 6M-Blake Mallory[1]; 2. 21-Michelle Parson[4]; 3. 94F-Morgan Fletcher[2]; 4. 1-Paul White[8]; 5. 7T-Landon Thompson[6]; 6. 15-Michael Colaluca[5]; 7. 91-Derrick Gentilly[7]; 8. 31-Colin Fletcher[3]; 9. 10-Parker Ezell[9]
M1 Fabrications B Feature 1 (12 Laps): 1. #1-Justin Zimmerman[6]; 2. 98K-Dane Fields[7]; 3. 5B-Brock Cottrell[2]; 4. 63-Chris Williams[3]; 5. 15-Michael Colaluca[1]; 6. 31-Colin Fletcher[8]; 7. 10-Parker Ezell[11]; 8. 91-Derrick Gentilly[4]; 9. 47W-Chipper Wood[5]; 10. 9$-Kyle Clark[9]; 11. 5R-John Ricketts[10]
Accel Compressions A Feature (25 Laps): 1. 16S-Steven Shebester[3]; 2. G6-Cody Gardner[12]; 3. 4-Austin Mundie[9]; 4. 01J-Jeb Sessums[5]; 5. 2B-Brett Becker[1]; 6. 1-Paul White[8]; 7. 1J-Danny Jennings[6]; 8. 6M-Blake Mallory[7]; 9. 25B-Blaine Baxter[2]; 10. 99J-Cooper Sullivan[13]; 11. 79-Keith Martin[14]; 12. 98K-Dane Fields[18]; 13. 94F-Morgan Fletcher[11]; 14. 63-Chris Williams[20]; 15. 7T-Landon Thompson[15]; 16. 33C-Casey Carter[16]; 17. 21-Michelle Parson[4]; 18. 5B-Brock Cottrell[19]; 19. 21K-Kobe Simpson[10]; 20. (DQ) #1-Justin Zimmerman[17]
---
Submitted By: Bryan Hulbert
Back to News