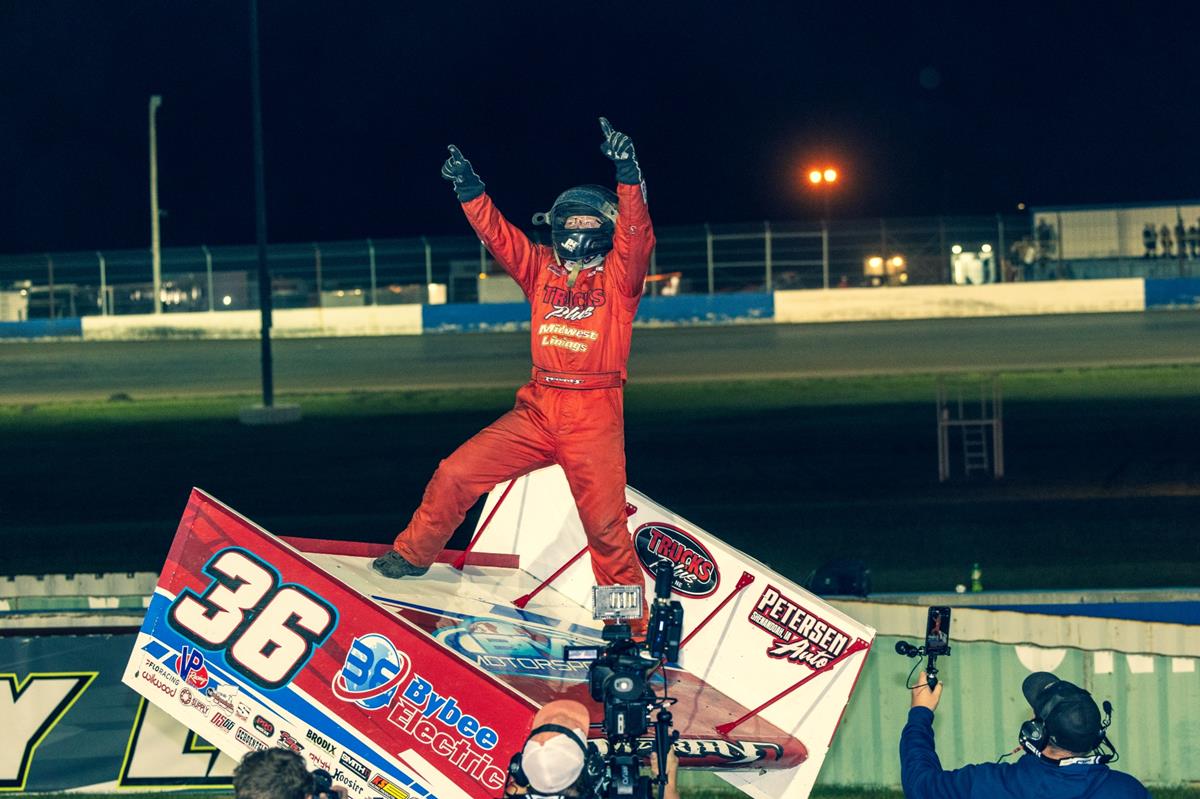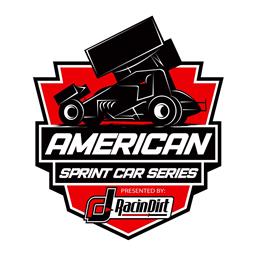 ---
Jason Martin Battles To Third Straight ASCS National Win At Longdale Speedway
(Image Credit: Maxx Ramsey)
Bryan Hulbert – LONGDALE, Okla. (May 20, 2023) A battle to the finish for Jason Martin at Longdale Speedway on Saturday, the Kansas shoe fought with Jake Bubak through the opening half of Saturday's A-Feature, only to have Seth Bergman drive into the mix in the closing laps, but the No. 23 could not deny Martin his third consecutive National Tour score.
"I'll tell you want, Jake Bubak and Seth Bergman, you can talk all the smack you want, but these guys are the best in the country. These guys are really good, so when we can beat them I feel really proud, and these guys behind me, they make the magic happen. I just get to stand on the loud pedal, and be very fortunate to have such a face racecar. It just kept getting better and better," exclaimed Jason of the win.
Exchanging the lead three times through traffic with Bubak through the first ten laps, the No. 27b was never far behind as traffic brought Martin to and from. Finally getting some breathing room with five laps to go, a wall of traffic brought the race for second to Jason's doorstep.
Enter Seth Bergman, the Evergreen Coffee, Co. No. 23 shot to the runner-up spot on Lap 23. Chasing Martin down, time would run out as Jason made it to the line 0.335-seconds ahead of the No. 23. Jake Bubak held third, with Matt Covington fourth. Brandon Anderson completed the top five.
Jordon Mallett, in sixth, was followed by Jeremy Campbell. Eighth went to Whit Gastineau, with Landon Crawley ninth. Landon Britt rounded out the top ten.
The opening night of the Walleye Rodeo Roundup drew a 26-car field. Jake Bubak was the overall quick qualifier and established the track record at 14.565-seconds. A.R. Dyno Services Heat Race wins went to Brandon Anderson, Matt Covington, and Seth Bergman. The KSE Hard Charger was Danny Wood, who picked up ten positions in the A-Feature.
The Walley Rodeo Roundup at Longdale Speedway wraps up Sunday, May 22. Gates open at 4:00 P.M. with racing at 6:00 P.M. (CDT). Tickets are $20 for adults, $15 for seniors, and free for kids 12 and under. Pit Passes are $35. The event is being promoted by Terry Mattox. For more information, contact him at (918) 417-0624 or email terry@ascsracing.com. Longdale Speedway is located just south of Longdale, Okla., on OK-58.
If you have any questions about rules or procedures, contact Terry Mattox at (918) 417-0624 or email terry@ascsracing.com.
The 2023 season will mark the 32nd year of competition for the American Sprint Car Series. Spearheaded by the American Sprint Car Series National Tour, the ASCS Nation includes Regional Tours that encompass both wing and non-wing competition.
For other news, notes, and information on any of the tours under the ASCS banner, log onto http://www.ascsracing.com, follow on Facebook, Instagram, and Twitter (@ASCSRacing).
Race Results:
ASCS National/ASCS Sooner
Longdale Speedway (Longdale, Okla.)
Saturday, May 20, 2023
Car Count: 26
The Driver's Project Group Qualifying
The Drivers Project Qualifying 1 (3 Laps): 1. 27B-Jake Bubak, 14.565[8]; 2. 41-Colton Hardy, 14.673[1]; 3. 55B-Brandon Anderson, 14.743[4]; 4. 45X-Kyler Johnson, 14.855[3]; 5. 03-Joe Wood Jr, 14.860[6]; 6. 187-Landon Crawley, 14.880[5]; 7. 13-Elijah Gile, 14.911[2]; 8. 10P-Dylan Postier, 15.154[7]; 9. 91-Michael Day, 15.659[9]
The Drivers Project Qualifying 2 (3 Laps): 1. 36-Jason Martin, 14.758[3]; 2. 10C-Jeremy Campbell, 14.866[1]; 3. 95-Matt Covington, 15.008[7]; 4. 12-Jeffrey Newell, 15.090[5]; 5. 90-Lance Norick, 15.322[9]; 6. 6-Christopher Townsend, 15.406[2]; 7. 27-Jeremy Huish, 15.429[4]; 8. 26M-Fred Mattox, 15.686[6]; 9. 55W-Danny Wood[8] NT
The Drivers Project Qualifying 3 (3 Laps): 1. 14-Jordon Mallett, 15.074[1]; 2. 2-Whit Gastineau, 15.161[3]; 3. 23-Seth Bergman, 15.179[5]; 4. 10-Landon Britt, 15.357[8]; 5. 3-Howard Moore, 15.432[7]; 6. 71-Bradyn Baker, 15.780[6]; 7. 7C-Chris Morgan, 15.912[4]; 8. 938-Bradley Fezard, 15.961[2]
AR Dyno Specialty Heat Races (All drivers advance to the A-Feature)
AR Dyno Specialty Heat 1 (8 Laps): 1. 55B-Brandon Anderson[2]; 2. 27B-Jake Bubak[4]; 3. 45X-Kyler Johnson[1]; 4. 187-Landon Crawley[6]; 5. 41-Colton Hardy[3]; 6. 03-Joe Wood Jr[5]; 7. 10P-Dylan Postier[7]; 8. 91-Michael Day[8]; 9. 13-Elijah Gile[9]
AR Dyno Specialty Heat 2 (8 Laps): 1. 95-Matt Covington[2]; 2. 36-Jason Martin[4]; 3. 10C-Jeremy Campbell[3]; 4. 12-Jeffrey Newell[1]; 5. 26M-Fred Mattox[8]; 6. 6-Christopher Townsend[6]; 7. 27-Jeremy Huish[7]; 8. 55W-Danny Wood[9]; 9. 90-Lance Norick[5]
AR Dyno Specialty Heat 3 (8 Laps): 1. 23-Seth Bergman[2]; 2. 10-Landon Britt[1]; 3. 2-Whit Gastineau[3]; 4. 3-Howard Moore[5]; 5. 14-Jordon Mallett[4]; 6. 7C-Chris Morgan[7]; 7. 71-Bradyn Baker[6]; 8. 938-Bradley Fezard[8]
A-Feature
A-Main (25 Laps): 1. 36-Jason Martin[2]; 2. 23-Seth Bergman[5]; 3. 27B-Jake Bubak[1]; 4. 95-Matt Covington[4]; 5. 55B-Brandon Anderson[3]; 6. 14-Jordon Mallett[8]; 7. 10C-Jeremy Campbell[6]; 8. 2-Whit Gastineau[7]; 9. 187-Landon Crawley[9]; 10. 10-Landon Britt[11]; 11. 3-Howard Moore[10]; 12. 55W-Danny Wood[22]; 13. 41-Colton Hardy[13]; 14. 45X-Kyler Johnson[14]; 15. 6-Christopher Townsend[17]; 16. 10P-Dylan Postier[21]; 17. 7C-Chris Morgan[15]; 18. 91-Michael Day[25]; 19. 938-Bradley Fezard[24]; 20. 27-Jeremy Huish[19]; 21. 90-Lance Norick[26]; 22. 13-Elijah Gile[23]; 23. 03-Joe Wood Jr[18]; 24. 12-Jeffrey Newell[16]; 25. 26M-Fred Mattox[12]; 26. 71-Bradyn Baker[20]
Lap Leader(s): Jake Bubak 1-4, 6-7, 9; Jason Martin 5, 8, 10-25
KSE Hard Charger: Danny Wood +10
Driver's Project Quick Time: Jake Bubak -14.565-seconds (NTR)
High Point Driver: Jake Bubak
Provisional(s): N/A
ASCS Online:
American Sprint Car Series: http://www.ascsracing.com
Facebook: http://www.facebook.com/americansprintcarseries
Twitter: http://www.twitter.com/ascsracing [@ascsracing]
Broadcast: FloRacing.com
Live-Scoring: My Race Pass App
2023 Race Winners: Jason Martin – 3 (4/20 – Jackson Motor Speedway; 4/22 – Boothill Speedway; 5/20 – Longdale Speedway);
2023 Driver Points (Top 10): 1. Jason Martin 450; 2. Seth Bergman 419; 3. Landon Britt 387; 4. Brandon Anderson 369; 5. Howard Moore 368; 6. Matt Covington 365; 7. Jordon Mallett 347; 8. Kyler Johnson 331; 9. Landon Crawley 327; 10. Michael Day 308;
---
Submitted By: Bryan Hulbert
Back to News