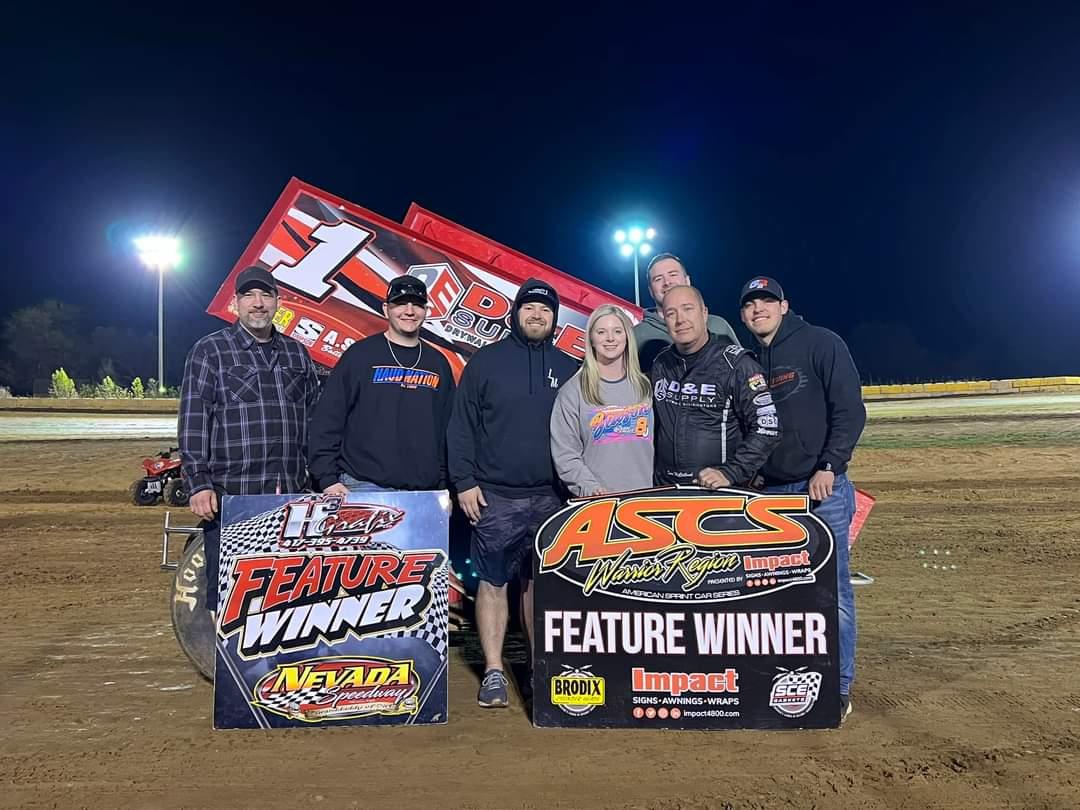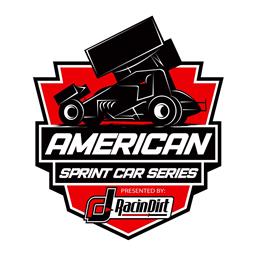 ---
McClelland Is The Man At Nevada In ASCS Sooner/Warrior Showdown
Bryan Hulbert – NEVADA, Mo. (April 8, 2023) Kicking off the 2023 season with a victory, Tulsa's Sean McClelland held off the late race charge of Landon Britt to win Saturday's showdown at Nevada Speedway with the American Bank of Oklahoma ASCS Sooner Region and ASCS Warrior Region presented by Impact Signs, Awnings, and Wraps.
Taking his win total to 21, Sean McClelland has overtaken Kevin Ramey to become the all-time winner in ASCS Sooner Region competition.
Battling through a pair of starts with Taylor Walton, the lead only grew for McClelland, who found traffic in a matter of laps. Finding the low-side working, the race for second saw Landon Britt move from fifth to take the spot away from Slater Helt on Lap 9.
Inching closer to McClelland as the race worked into the closing laps, time was on the side of the No. 1 at the white flag, but the caution lights would be forced on by Daryn Langford, who spun with the leaders reeling him in. Putting the field into a green, white, checkered dash to the finish, Britt pulled even with McClelland twice in the first and second turns but could not get the run needed to deny McClelland the victory.
Britt in second would be followed by Slater Helt to complete the podium. Ben Brown grabbed fourth, with Chase Porter snagging fifth. Taylor Walton, Brandon Anderson, Randy Martin, Mitchell Moore, and Terry Easum made up the top ten.
The next event for the American Bank of Oklahoma ASCS Sooner Region is Friday, April 21 at Thunderbird Speedway in Muskogee, Okla., and Elk City Motorsports Park in Elk City, Okla. on Saturday, April 22. The ASCS Warrior Region presented by Impact Signs, Awnings, and Wraps, takes on the ASCS Mid-South Region at Poplar Bluff Speedway on Friday, April 28, then Legit Speedway Park on Saturday, April 29.
The 2023 season will mark the 32nd year of competition for the American Sprint Car Series. Spearheaded by the American Sprint Car Series National Tour, the ASCS Nation includes Regional Tours that encompass both wing and non-wing competition.
For other news, notes, and information on any of the tours under the ASCS banner, log onto http://www.ascsracing.com, follow on Facebook, Instagram, and Twitter (@ASCSRacing)
Race Results:
ASCS Sooner/Warrior Regions
Nevada Speedway (Nevada, Mo.)
Saturday, April 8, 2023
Heat 1 (8 Laps): 1. 1-Sean McClelland[2]; 2. 55B-Brandon Anderson[3]; 3. 0-Chase Porter[4]; 4. 14-Randy Martin[6]; 5. 7JR-JD Black[1]; 6. 88-Terry Easum[5]; 7. 30X-Larry Bratti[7]; 8. 9M-Dale McCarty[8]
Heat 2 (8 Laps): 1. 7B-Ben Brown[2]; 2. 10-Landon Britt[4]; 3. 93-Taylor Walton[6]; 4. 22S-Slater Helt[5]; 5. 26M-Fred Mattox[3]; 6. 51-Mitchell Moore[1]; 7. 32D-Daryn Langford[7]
A Main (25 Laps): 1. 1-Sean McClelland[2]; 2. 10-Landon Britt[4]; 3. 22S-Slater Helt[5]; 4. 7B-Ben Brown[3]; 5. 0-Chase Porter[6]; 6. 93-Taylor Walton[1]; 7. 55B-Brandon Anderson[8]; 8. 14-Randy Martin[7]; 9. 51-Mitchell Moore[14]; 10. 88-Terry Easum[11]; 11. 32D-Daryn Langford[13]; 12. 26M-Fred Mattox[9]; 13. 7JR-JD Black[10]; 14. 30X-Larry Bratti[12]; 15. 9M-Dale McCarty[15]
---
Submitted By: Bryan Hulbert
Back to News