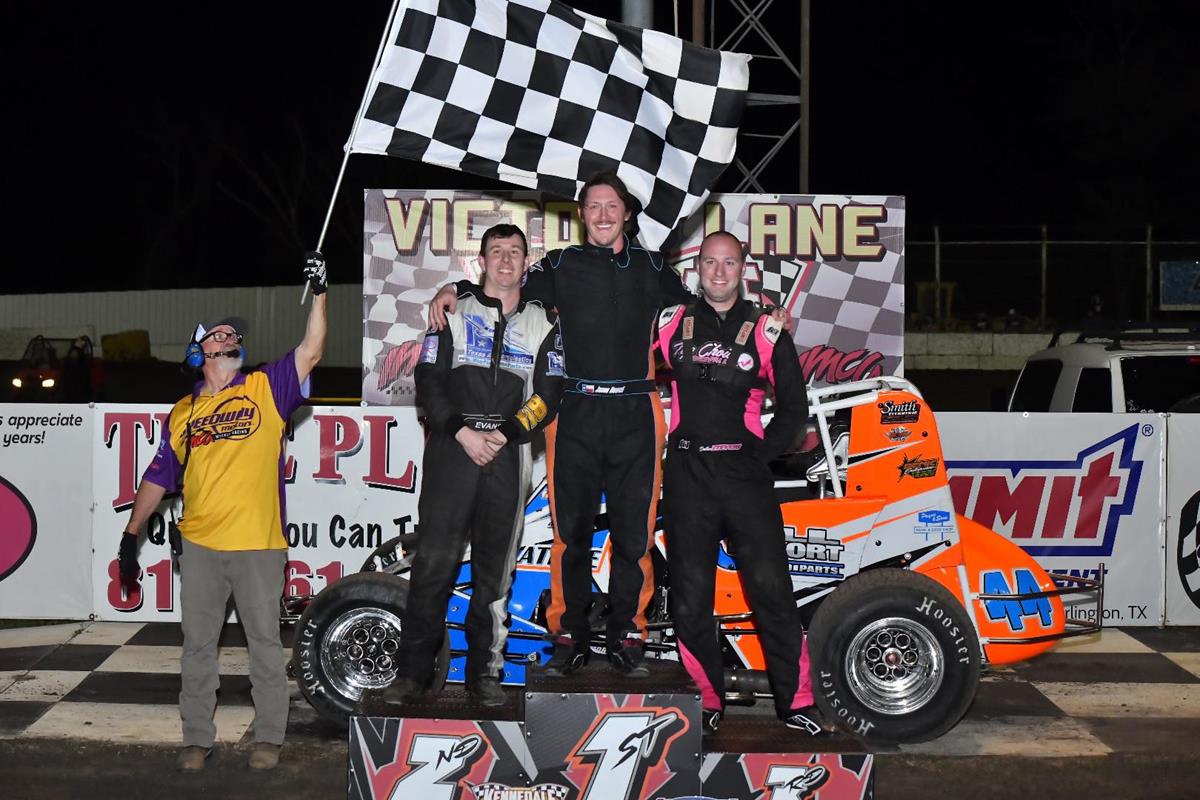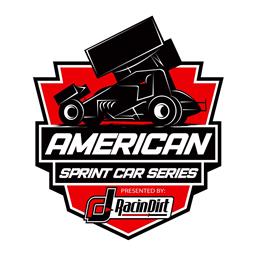 ---
It's Howell On Last Lap With ASCS Elite Non-Wing At Kennedale Speedway Park
(Image Credit: Bobby DrRock Thomas)
Bryan Hulbert – KENNEDALE, Texas (March 11, 2023) Taking his fourth career victory with the ASCS Elite Non-Wing Series presented by Abilene Powder Coating, Jason Howell earned the win over a field of 31 at Kennedale Speedway Park on Saturday night with a last lap pass.
Back-to-back wins at the quarter-mile-oval with the ASCS Elite Non-Wing Series, Howell paced the hub of the speedway to second by Lap 4. Chasing Scott Evans, who took the point from the front row, the leaders paced into slower traffic as the race moved into the closing laps.
Having cut the gap down from over a second, the No. 44 steadily closed through the final five revolutions. In position as the pair raced to the white flag, Evans worked the middle of the first a second turns as traffic worked low. Off the throttle, for a moment as a lapped car moved up the track, that was all it took for Howell to shoot between the two entering the final two turns. The advantage at the line was 0.301-seconds.
Evans held on for second, while Dalton Stevens made it to third from ninth. Justin Zimmerman and Blake Jenkins completed the top five. Cody Gardner, Colby Estes, Blaine Baxter, R.J, Miller, and Michelle Parson made up the top ten.
The ASCS Elite Non-Wing Series presented by Abilene Powder Coating races again at Texarkana 67 Speedway for the $10,000 to win Non-Wing Short Track Nationals.
The 2023 season will mark the 32nd year of competition for the American Sprint Car Series. Spearheaded by the American Sprint Car Series National Tour, the ASCS Nation includes Regional Tours that encompass both wing and non-wing competition.
For other news, notes, and information on any of the tours under the ASCS banner, log onto http://www.ascsracing.com, follow on Facebook, Instagram, and Twitter (@ASCSRacing).
Race Results:
ASCS Elite Non-Wing
Kennedale Speedway Park (Kennedale, Texas)
Saturday, March 11, 2024
Boxwell Heavy Haul Heat 1 (8 Laps): 1. 99-Blake Jenkins[1]; 2. 48-Blaine Baxter[4]; 3. 21K-Kobe Simpson[6]; 4. 99X-Dalton Stevens[7]; 5. 74E-Claude Estes[2]; 6. 10-Bryan Debrick[5]; 7. 63-Chris Williams[3]; 8. 34R-Rhett Butler[8]
Texas Aeroplastics Heat 2 (8 Laps): 1. #1-Justin Zimmerman[1]; 2. 34-RJ (Richard) Miller[2]; 3. 1-Paul White[3]; 4. G6-Cody Gardner[5]; 5. 57-Chase Parson[4]; 6. 02-Dillon Burks[6]; 7. 6-Christian Moore[7]
Jacksonville Tool Die Heat 3 (8 Laps): 1. 118-Scott Evans[2]; 2. 21-Michelle Parson[3]; 3. 5R-John Ricketts[6]; 4. 79-Keith Martin[5]; 5. 10H-James Hoffman Jr[4]; 6. 33-Mike Merrell[7]; 7. 43-Brennon Marshall[1]
M1 Fabrications Heat 4 (8 Laps): 1. 44-Jason Howell[2]; 2. 72-Colby Estes[1]; 3. 54-Jeremy Jonas[4]; 4. 31M-Mason Smith[3]; 5. 74-DJ Estes[6]; 6. 2-Colby Stubblefield[7]; 7. 57P-Peter Walker[5]
SCP Polymers B Feature 1 (12 Laps): 1. 57-Chase Parson[2]; 2. 2-Colby Stubblefield[5]; 3. 02-Dillon Burks[7]; 4. 6-Christian Moore[9]; 5. 63-Chris Williams[11]; 6. 34R-Rhett Butler[12]; 7. 74-DJ Estes[1]; 8. 74E-Claude Estes[6]; 9. 10H-James Hoffman Jr[3]; 10. 43-Brennon Marshall[13]
Top Choice Masonry A Feature 1 (20 Laps): 1. 44-Jason Howell[5]; 2. 118-Scott Evans[2]; 3. 99X-Dalton Stevens[9]; 4. #1-Justin Zimmerman[7]; 5. 99-Blake Jenkins[3]; 6. G6-Cody Gardner[14]; 7. 72-Colby Estes[11]; 8. 48-Blaine Baxter[6]; 9. 34-RJ (Richard) Miller[10]; 10. 21-Michelle Parson[8]; 11. 1-Paul White[13]; 12. 57-Chase Parson[17]; 13. 79-Keith Martin[15]; 14. 02-Dillon Burks[19]; 15. 54-Jeremy Jonas[12]; 16. 31M-Mason Smith[16]; 17. 5R-John Ricketts[1]; 18. 6-Christian Moore[20]; 19. 21K-Kobe Simpson[4]; 20. 2-Colby Stubblefield[18]
---
Submitted By: Bryan Hulbert
Back to News