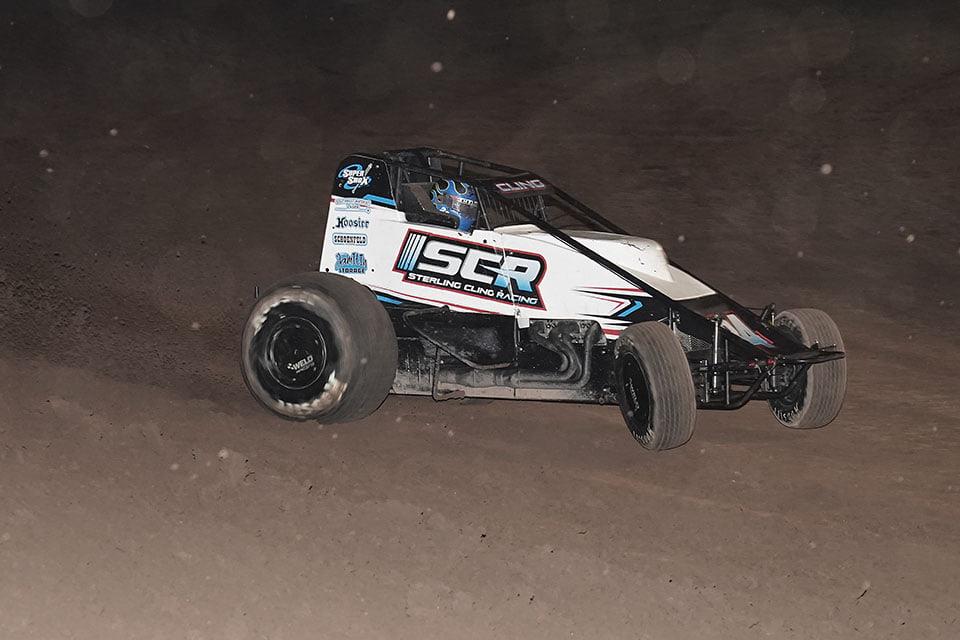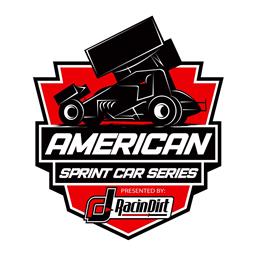 ---
Sterling Cling Snags ASCS Arizona Non-Wing Opener
(Image Credit: Ben Thrasher)
Bryan Hulbert – CASA GRANDE, Ariz. (February 11, 2023) Taking the first checkered flag of the 2023 season in ASCS competition, Tempe's Sterling Cling led 24 of 25 Saturday night with the ASCS Arizona Non-Wing Sprints at Central Arizona Raceway.
The second ASCS Wingless tour that Sterling has captured a victory with in Arizona; the win brings his overall to five and makes him the fourth driver to top action with the ASCS Arizona Non-Wing Sprints.
Chasing Charles Davis, Jr. through the opening circuit, third starting Sterling grabbed the point on Lap 2.
Working to hold the lead through several restarts, Cling would spend the latter part of the feature fending off Dustin Cormany. Settling for silver, the bronze performance went to R.J. Johnson after picking up six positions. Chris Bonneau crossed fourth, with Logan Calderwood rolling up seven positions to finish fifth.
Charles Davis, Jr. ended up sixth, followed by James Webster. An impressive run from 20th, Pete Yerkovich made it to eighth, with Jonas Reynolds going 18th to ninth. Lonnie Oliver completed the top ten.
The ASCS Arizona Non-Wing Sprints return to Central Arizona Raceway on Saturday, March 25. For information on the track and coming events, log onto https://www.facebook.com/CentralArizonaRaceway or call (602) 292-7607.
The 2023 season will mark the 32nd year of competition for the American Sprint Car Series. Spearheaded by the Lucas Oil American Sprint Car Series presented by the MAVTV Motorsports Network, the ASCS Nation includes Regional Tours that encompass both wing and non-wing competition.
For other news, notes, and information on any of the tours under the ASCS banner, log onto http://www.ascsracing.com, follow on Facebook, Instagram, and Twitter (@LucasOilASCS).
Race Results:
ASCS Arizona Non-Wing Sprints
Central Arizona Raceway (Casa Grande, Ariz.)
Saturday, February 11, 2023
Heat 1 (8 Laps): 1. 98-Matt Lundy[1]; 2. 22AZ-Lonnie Oliver[4]; 3. 15-Chris Bonneau[7]; 4. 6-Logan Calderwood[3]; 5. 3K-Patrick Krob[2]; 6. 51W-Ronald Webster[5]; 7. 3V-Jim Vanzant[6]; 8. 6X-Kaiden Clark[8]
Heat 2 (8 Laps): 1. 29-Dustin Cormany[4]; 2. 5AZ-James Webster[6]; 3. 21-Austin Ervine[5]; 4. 61-Chad Stevens[1]; 5. 4-Tuesday Calderwood[7]; 6. 21P-Daylin Perreira[3]; 7. 3-Pete Yerkovich[2]; 8. (DNS) 17-Jim Green
Heat 3 (8 Laps): 1. 34-Sterling Cling[2]; 2. 11C-Charles Davis Jr[4]; 3. 51-RJ Johnson[5]; 4. 151-Duke Johnson[7]; 5. 10-Ken Caskey[6]; 6. 0-Jonas Reynolds[3]; 7. 8AZ-Jordan Stetson[1]; 8. 49Z-Karl Ackley[8]
A Feature (25 Laps): 1. 34-Sterling Cling[3]; 2. 29-Dustin Cormany[6]; 3. 51-RJ Johnson[9]; 4. 15-Chris Bonneau[4]; 5. 6-Logan Calderwood[12]; 6. 11C-Charles Davis Jr[1]; 7. 5AZ-James Webster[5]; 8. 3-Pete Yerkovich[20]; 9. 0-Jonas Reynolds[18]; 10. 22AZ-Lonnie Oliver[2]; 11. 151-Duke Johnson[10]; 12. 4-Tuesday Calderwood[11]; 13. 3V-Jim Vanzant[19]; 14. 8AZ-Jordan Stetson[21]; 15. 21P-Daylin Perreira[17]; 16. 21-Austin Ervine[8]; 17. 98-Matt Lundy[7]; 18. 49Z-Karl Ackley[23]; 19. 10-Ken Caskey[13]; 20. 61-Chad Stevens[14]; 21. 3K-Patrick Krob[15]; 22. 51W-Ronald Webster[16]; 23. 17-Jim Green[24]; 24. 6X-Kaiden Clark[22]
---
Submitted By: Bryan Hulbert
Back to News