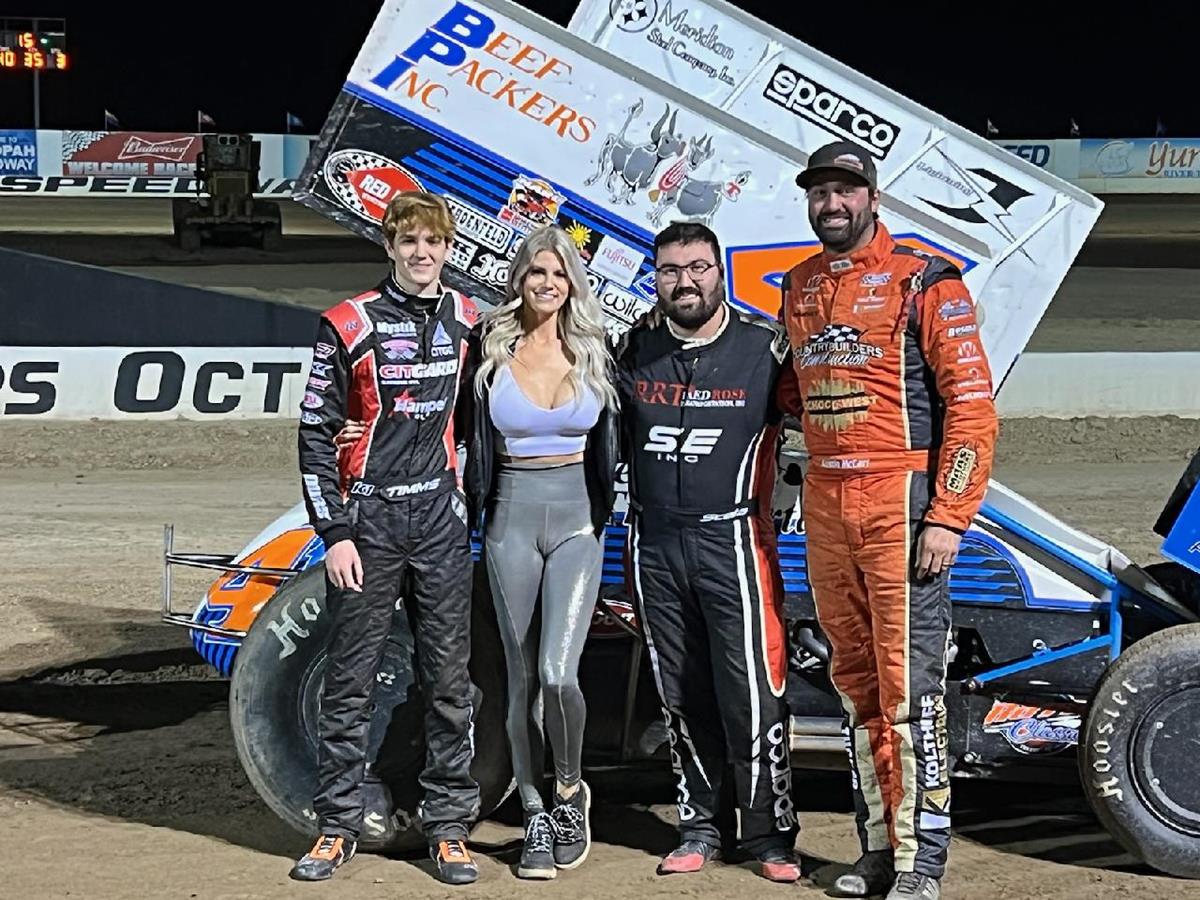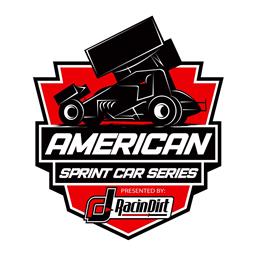 ---
Dominic Scelzi Steers To Friday Night ASCS Southwest Victory At Cocopah Speedway
(Image Credit: Jason Carter)
Bryan Hulbert - SOMERTON, Ariz. (November 11, 2022) Landing Friday's $3,000 top prize with the ASCS Southwest Region, California's Dominic Scelzi wheeled the Beef Packers, Inc. No. 41s to Victory Lane At Cocopah Speedway.
The fifth time Scelzi has topped an ASCS Sanctioned event, the triumph is his first against the Southwest Region.
Taking the green from fourth, Scelzi jumped to the show position at the start. Chasing through the opening six revolution, the No. 41s took command from race long leader, Dustin Freitas on Lap 7.
Keeping pace from there, Scelzi found the Checkered Flag with a 2.587-second lead over Iowa's Austin McCarl, who had to fight the position away from Ryan Timms with two laps to go. The Oklahoma shoe would settle for a close third. Making a ten position run through the field, Colton Hardy ended up fourth with Nick Parker up four spots to finish fifth.
Logan Forler, who dominated the B-Feature, made it up to sixth, followed by Sammy Swindell. Eighth went to Wes Wofford, with Trevor Kirkland and Logan Calderwood completing the top ten.
The ASCS Southwest Region wraps up their 2022 season at Cocopah with a $5,000 to win showdown on Saturday, November 12. The event can be seen live on http://www.speedsport.tv.
For other news, notes, and information on any of the tours under the ASCS banner, log onto http://www.ascsracing.com, follow on Facebook, Instagram, and Twitter (@LucasOilASCS).
Race Results:
ASCS Southwest Region
Cocopah Speedway (Somerton, Ariz.)
Friday, November 11, 2022
Heat 1 (8 Laps): 1. 19AZ-Hayden Reinbold[2]; 2. 37-Trever Kirkland[4]; 3. 1-Robbie Price[5]; 4. 116-Vance Wofford[3]; 5. 22-Justin Lasiter[6]; 6. 50S-Rocky Silva[7]; 7. (DNF) 7-Lorne Wofford[1]
Heat 2 (8 Laps): 1. 88-Austin McCarl[2]; 2. 115-Nick Parker[1]; 3. 19-Wes Wofford[4]; 4. 57-Chaz Baca[3]; 5. 41-Colton Hardy[7]; 6. 2-Alex Pettas[5]; 7. (DNF) 14-Cody Sickles[6]
Heat 3 (8 Laps): 1. 41S-Dominic Scelzi[4]; 2. 75X-JT Imperial[1]; 3. 5T-Ryan Timms[6]; 4. 2L-Logan Forler[3]; 5. 6-Logan Calderwood[5]; 6. 7OH-Bryan Ledbetter Jr[2]; 7. 5S-Blaze Silva[7]
Heat 4 (8 Laps): 1. 01-Sammy Swindell[2]; 2. 9-Dustin Freitas[3]; 3. 4-Tuesday Calderwood[4]; 4. 34-Sterling Cling[5]; 5. 91-Tye Mihocko[6]; 6. (DNF) 1M-Dylan Harris[1]
B Feature (12 Laps): 1. 2L-Logan Forler[1]; 2. 6-Logan Calderwood[4]; 3. 22-Justin Lasiter[2]; 4. 91-Tye Mihocko[3]; 5. 2-Alex Pettas[6]; 6. 1M-Dylan Harris[8]; 7. 7-Lorne Wofford[10]; 8. 7OH-Bryan Ledbetter Jr[7]; 9. 5S-Blaze Silva[11]; 10. 50S-Rocky Silva[5]; 11. (DNS) 14-Cody Sickles
A Feature (25 Laps): 1. 41S-Dominic Scelzi[4]; 2. 88-Austin McCarl[7]; 3. 5T-Ryan Timms[2]; 4. 41-Colton Hardy[14]; 5. 115-Nick Parker[9]; 6. 2L-Logan Forler[17]; 7. 01-Sammy Swindell[5]; 8. 19-Wes Wofford[11]; 9. 37-Trever Kirkland[6]; 10. 6-Logan Calderwood[18]; 11. 75X-JT Imperial[10]; 12. 9-Dustin Freitas[1]; 13. 1M-Dylan Harris[22]; 14. 91-Tye Mihocko[20]; 15. 116-Vance Wofford[15]; 16. 4-Tuesday Calderwood[12]; 17. 57-Chaz Baca[16]; 18. 2-Alex Pettas[21]; 19. 7OH-Bryan Ledbetter Jr[24]; 20. 19AZ-Hayden Reinbold[8]; 21. 22-Justin Lasiter[19]; 22. 34-Sterling Cling[13]; 23. 7-Lorne Wofford[23]; 24. 1-Robbie Price[3]
---
Submitted By: Bryan Hulbert
Back to News