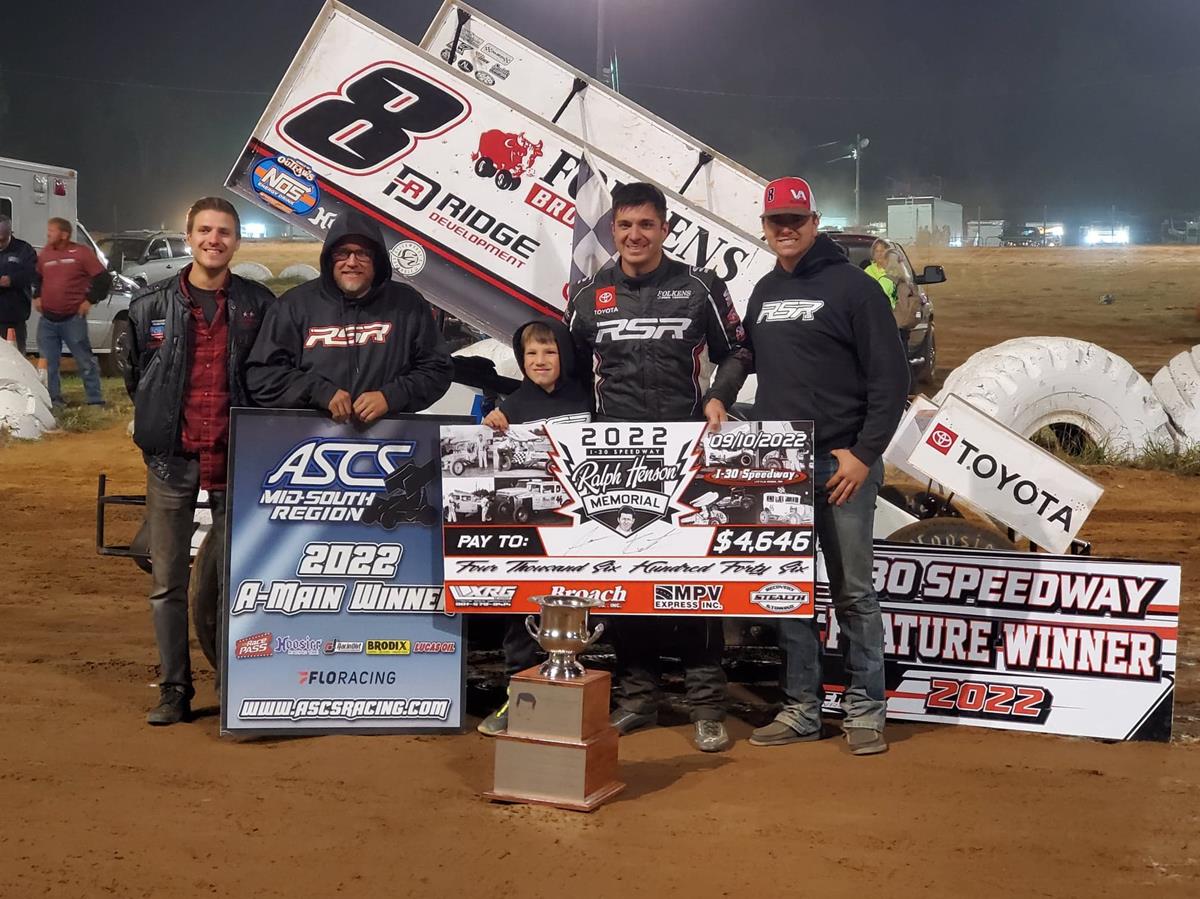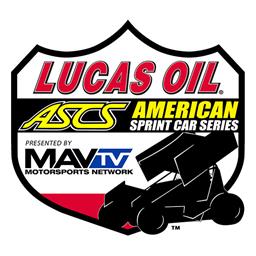 ---
Aaron Reutzel Dominates The Ralph Henson Memorial At I-30 Speedway
(Image Credit: Rob Kocak)
Bryan Hulbert – LITTLE ROCK, Ark. (September 29, 2022) Out of 74 drivers on hand Thursday night, Aaron Reutzel proved unstoppable in the 15th running of the $5,646 to win Ralph Henson Memorial, with a dominating performance against the ASCS Mid-South Region at I-30 Speedway.
Battling with Wayne Johnson on two starts, Aaron and Wayne traded the position twice before the first lap was complete, with the No. 8r holding the spot. Into heavy lapped traffic before the caution shown with ten laps to run, the restart saw a trio of slower cars in the mix. Giving Aaron plenty of breathing room, the focus turned to the race for second, with Sam Hafertepe, Jr. having worked past Johnson before the pause.
Able to fend off the run of the No. 2c, Sam went to work reeling in Reutzel.
Unable to make up much time, Aaron hit the line with 2.953-seconds to spare. Sam Hafertepe, Jr., in second, was followed by Jordon Mallett, who, off the final turn, got two positions as Wayne rolled up the cushion. Three wide to the front stretch, the No. 2c held on to fourth by 0.099-seconds over Ryan Timms, who charged from 13th to fifth.
Derek Hagar crossed sixth and secured the 2022 I-30 Speedway track championship and ASCS Mid-South Regional title. Brad Bowden crossed seventh, with Garet Williamson hauling from 18th to eighth. Kyler Johnson and Dylan Westbrook completed the top ten.
Events at I-30 Speedway continue on Friday, September 30, and Saturday, October 1, with the 35th annual COMP Cams Short Track Nationals presented by Hoosier Tires. Both nights go green at 7:30 P.M. (CDT). More information can be found at www.i-30speedway.com.
The 2022 season will mark the 31st year of competition for the American Sprint Car Series. Spearheaded by the Lucas Oil American Sprint Car Series presented by the MAVTV Motorsports Network, the ASCS Nation includes Regional Tours that encompass both wing and non-wing competition.
For other news, notes, and information on any of the tours under the ASCS banner, log onto http://www.ascsracing.com, follow on Facebook, Instagram, and Twitter (@LucasOilASCS).
Race Results:
ASCS Mid-South Region
I-30 Speedway (Little Rock, Ark.)
Thursday, September 29, 2022
Car Count: 74
Heat 1 (8 Laps): 1. 29-Chad Jones[1]; 2. 10-Landon Britt[2]; 3. 23-Seth Bergman[3]; 4. G6-Cody Gardner[6]; 5. 2-Chase Porter[5]; 6. 39-Justin Sanders[8]; 7. 2T-Todd Bradford[7]; 8. 5L-Dusty Young[9]; 9. 17F-Chad Frewaldt[10]; 10. 72P-Gary Floyd[4]
Heat 2 (8 Laps): 1. 91-Michael Day[2]; 2. 22-Riley Goodno[4]; 3. 8R-Aaron Reutzel[7]; 4. 55B-Brandon Anderson[6]; 5. 5T-Ryan Timms[8]; 6. 16-Steven Howell[3]; 7. 42P-Preston Perlmutter[9]; 8. 38-Rick Pringle[5]; 9. 85-Josh McCord[10]; 10. 132-Jamie Manley[1]
Heat 3 (8 Laps): 1. 14-Jordon Mallett[2]; 2. 52-Blake Hahn[4]; 3. 74-Tucker Boulton[1]; 4. 95-Matt Covington[8]; 5. 99L-Lewis Jenkins Jr[3]; 6. 43M-Mark Smith[9]; 7. 44-Ronny Howard[6]; 8. 8M-Kade Morton[7]; 9. 938-Bradley Fezard[5]
Heat 4 (8 Laps): 1. 17B-Ryan Bickett[1]; 2. 15H-Sam Hafertepe Jr[6]; 3. 10P-Dylan Postier[2]; 4. 16C-Tylar Rankin[5]; 5. 77-Jack Wagner[4]; 6. 22S-Slater Helt[7]; 7. 91Z-Zach Pringle[9]; 8. 10K-Dewayne White[3]; 9. 13-Chase Howard[8]
Heat 5 (8 Laps): 1. 87J-Jace Park[2]; 2. 41-Colton Hardy[3]; 3. 24-Jeffrey West Jr[1]; 4. 12M-Greg Merritt[4]; 5. 1S-Joey Schmidt[6]; 6. 19-Jason Long[5]; 7. 97-Scotty Milan[7]; 8. 21K-Kevin Hinkle[8]; 9. 21R-Gunner Ramey[9]
Heat 6 (8 Laps): 1. 45X-Kyler Johnson[2]; 2. 24W-Garet Williamson[3]; 3. 47X-Dylan Westbrook[6]; 4. 12H-Tony Bruce Jr[4]; 5. 26-Marshall Skinner[1]; 6. 30-Joseph Miller[5]; 7. 99-Blake Jenkins[8]; 8. 73-Samuel Wagner[9]; 9. 71-Bradyn Baker[7]
Heat 7 (8 Laps): 1. 2C-Wayne Johnson[3]; 2. 9JR-Derek Hagar[5]; 3. 1JR-Steven Russell[1]; 4. 87-Tim Crawley[7]; 5. 36-Jason Martin[4]; 6. 91A-Ernie Ainsworth[9]; 7. 17A-Alex Lyles[2]; 8. 13M-Chance McCrary[8]; 9. 48-Wade Buttrey[6]
Heat 8 (8 Laps): 1. 4X-Brad Bowden[2]; 2. 47-Dale Howard[3]; 3. 3-Howard Moore[6]; 4. 67-Hayden Martin[1]; 5. 51B-Joe B Miller[9]; 6. 187-Landon Crawley[8]; 7. 84-Brandon Hanks[5]; 8. 15J-Jeremy Middleton[7]; 9. 27J-Joseph Poe Jr[4]
B-Main 1 (12 Laps): 1. 5T-Ryan Timms[4]; 2. 39-Justin Sanders[7]; 3. 77-Jack Wagner[8]; 4. 52-Blake Hahn[1]; 5. 41-Colton Hardy[2]; 6. 10-Landon Britt[3]; 7. 8M-Kade Morton[13]; 8. 97-Scotty Milan[11]; 9. 48-Wade Buttrey[15]; 10. 132-Jamie Manley[16]; 11. 84-Brandon Hanks[12]; 12. 30-Joseph Miller[10]; 13. 91A-Ernie Ainsworth[6]; 14. 38-Rick Pringle[14]; 15. 74-Tucker Boulton[5]; 16. 42P-Preston Perlmutter[9]
B-Main 2 (12 Laps): 1. 47X-Dylan Westbrook[1]; 2. 24W-Garet Williamson[2]; 3. 51B-Joe B Miller[3]; 4. 24-Jeffrey West Jr[5]; 5. 36-Jason Martin[8]; 6. 187-Landon Crawley[7]; 7. 91Z-Zach Pringle[9]; 8. 99-Blake Jenkins[10]; 9. 15J-Jeremy Middleton[13]; 10. 12M-Greg Merritt[6]; 11. 938-Bradley Fezard[15]; 12. 21K-Kevin Hinkle[12]; 13. 44-Ronny Howard[11]; 14. 10K-Dewayne White[14]; 15. 21R-Gunner Ramey[16]; 16. 23-Seth Bergman[4]
B-Main 3 (12 Laps): 1. 3-Howard Moore[1]; 2. 47-Dale Howard[2]; 3. 1JR-Steven Russell[5]; 4. 10P-Dylan Postier[4]; 5. 26-Marshall Skinner[9]; 6. 17F-Chad Frewaldt[13]; 7. 13M-Chance McCrary[12]; 8. 12H-Tony Bruce Jr[6]; 9. 5L-Dusty Young[11]; 10. 13-Chase Howard[14]; 11. 16-Steven Howell[10]; 12. 27J-Joseph Poe Jr[15]; 13. G6-Cody Gardner[3]; 14. 22S-Slater Helt[8]; 15. 67-Hayden Martin[7]
B-Main 4 (12 Laps): 1. 87-Tim Crawley[2]; 2. 43M-Mark Smith[5]; 3. 2-Chase Porter[7]; 4. 71-Bradyn Baker[14]; 5. 2T-Todd Bradford[10]; 6. 73-Samuel Wagner[11]; 7. 17A-Alex Lyles[12]; 8. 19-Jason Long[9]; 9. 99L-Lewis Jenkins Jr[8]; 10. 95-Matt Covington[1]; 11. 55B-Brandon Anderson[3]; 12. 85-Josh McCord[13]; 13. 16C-Tylar Rankin[4]; 14. 1S-Joey Schmidt[6]; 15. 72P-Gary Floyd[15]
A-Main (25 Laps): 1. 8R-Aaron Reutzel[2]; 2. 15H-Sam Hafertepe Jr[3]; 3. 14-Jordon Mallett[6]; 4. 2C-Wayne Johnson[1]; 5. 5T-Ryan Timms[13]; 6. 9JR-Derek Hagar[4]; 7. 4X-Brad Bowden[9]; 8. 24W-Garet Williamson[18]; 9. 45X-Kyler Johnson[7]; 10. 47X-Dylan Westbrook[14]; 11. 22-Riley Goodno[10]; 12. 29-Chad Jones[11]; 13. 87J-Jace Park[8]; 14. 17B-Ryan Bickett[12]; 15. 91-Michael Day[5]; 16. 47-Dale Howard[19]; 17. 87-Tim Crawley[16]; 18. 3-Howard Moore[15]; 19. 39-Justin Sanders[17]; 20. 43M-Mark Smith[20]
---
Submitted By: Bryan Hulbert
Back to News