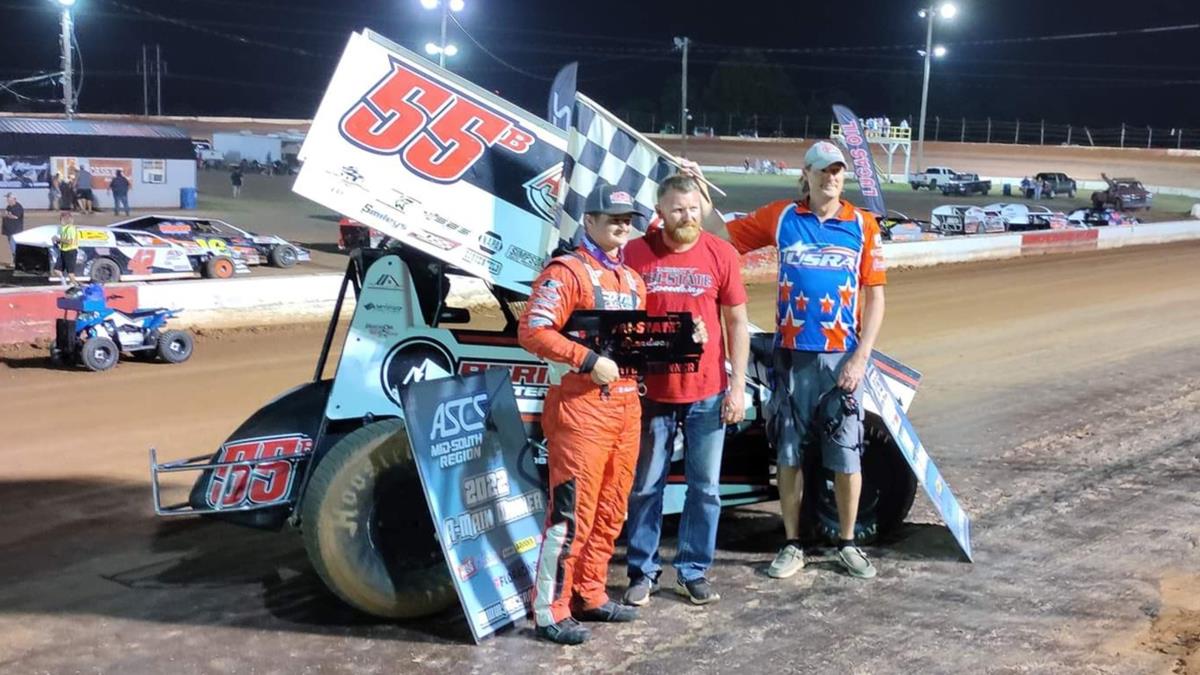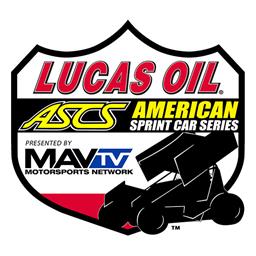 ---
Brandon Anderson Dominates ASCS Sooner/Mid-South Showdown At Tri-State Speedway
(Image Credit: Jeff Milan)
Bryan Hulbert – POCOLA, Okla. (August 27, 2022) Getting to the lead at the start and never looking back, Glenpool's Brandon Anderson jetted to his fifth career victory with the American Bank of Oklahoma ASCS Sooner Region presented by Smiley's Racing Products, and first with the ASCS Mid-South Region at Tri-State Speedway.
A second chance at the start, the first saw Gunner Ramey to the point, but the redo was all Brandon Anderson. Pulling away considerably before the race's first caution, any time the field was forced to pass between the cone and the wall saw the All-Pro Auto Reconditioning No. 55b pull away.
One final caution on Lap 14, Anderson found traffic in a hurry. Slowed slightly, the break in momentum allowed Gunner Ramey to pull a second off the leader's advantage but was quickly regained. Into the final laps, Anderson continued his trek as the podium began changing hands.
Kyle Clark to second on Lap 22; he would remain there until the checkered flag. Trailing by 4.055-seconds at the finish, Clark secured the spot with time to spare, but the race for third came down to the final few feet when Chance Morton squeezed by Gunner Ramey by 0.029-seconds. Up three spots, Danny Jennings completed the top five.
Michael Day was sixth, followed by Alex Sewell from 12th. Landon Britt, Zach Chappell, and Sean McClelland made the top ten.
The American Bank of Oklahoma ASCS Sooner Region, presented by Smiley's Racing Products, joins the Lucas Oil ASCS National Tour this Friday, September 2, for the tour's debut at Red Dirt Raceway in Meeker, Okla. The ASCS Mid-South Region races again on Saturday, September 10, at I-30 Speedway.
The 2022 season will mark the 31st year of competition for the American Sprint Car Series. Spearheaded by the Lucas Oil American Sprint Car Series presented by the MAVTV Motorsports Network, the ASCS Nation includes 11 Regional Tours encompassing both wing and non-wing competition.
For other news, notes, and information on any of the tours under the ASCS banner, log onto http://www.ascsracing.com, follow on Facebook, Instagram, and Twitter (@LucasOilASCS).
Race Results:
ASCS Sooner v. ASCS Mid-South
Tri-State Speedway (Pocola, Okla.)
Saturday, August 27, 2022
Heat 1 (8 Laps): 1. 2-Whit Gastineau[1]; 2. 1J-Danny Jennings[3]; 3. 21-Gunner Ramey[6]; 4. 50Z-Zach Chappell[4]; 5. 8-Alex Sewell[7]; 6. G6-Cody Gardner[9]; 7. 26M-Fred Mattox[5]; 8. 21K-Kevin Hinkle[8]; 9. 30J-Larry Bratti[2]
Heat 2 (8 Laps): 1. 77-Kale Drake[2]; 2. 9$-Kyle Clark[1]; 3. 2B-Brett Becker[4]; 4. 7M-Chance Morton[7]; 5. 10P-Dylan Postier[6]; 6. 87-Sean McClelland[9]; 7. 938-Bradley Fezard[3]; 8. 90-Lance Norick[8]; 9. 30-Joseph Miller[5]
Heat 3 (8 Laps): 1. 91-Michael Day[1]; 2. 55B-Brandon Anderson[4]; 3. 10-Landon Britt[2]; 4. 8M-Kade Morton[6]; 5. 42P-Preston Perlmutter[5]; 6. 71-Bradyn Baker[9]; 7. 31-Casey Wills[7]; 8. 187-Landon Crawley[3]; 9. 12-Jeffrey Newell[8]
B-Main 1 (12 Laps): 1. 50Z-Zach Chappell[2]; 2. 71-Bradyn Baker[1]; 3. 10P-Dylan Postier[3]; 4. 42P-Preston Perlmutter[4]; 5. 26M-Fred Mattox[6]; 6. 31-Casey Wills[5]; 7. 938-Bradley Fezard[7]; 8. 30-Joseph Miller[12]; 9. 90-Lance Norick[9]; 10. 21K-Kevin Hinkle[8]; 11. 30J-Larry Bratti[13]; 12. 187-Landon Crawley[10]; 13. 12-Jeffrey Newell[11]
A-Main (25 Laps): 1. 55B-Brandon Anderson[1]; 2. 9$-Kyle Clark[6]; 3. 7M-Chance Morton[5]; 4. 21-Gunner Ramey[2]; 5. 1J-Danny Jennings[8]; 6. 91-Michael Day[7]; 7. 8-Alex Sewell[12]; 8. 10-Landon Britt[11]; 9. 50Z-Zach Chappell[15]; 10. 87-Sean McClelland[14]; 11. 8M-Kade Morton[10]; 12. 10P-Dylan Postier[17]; 13. 2B-Brett Becker[9]; 14. 42P-Preston Perlmutter[18]; 15. 71-Bradyn Baker[16]; 16. 26M-Fred Mattox[19]; 17. 2-Whit Gastineau[3]; 18. G6-Cody Gardner[13]; 19. 31-Casey Wills[20]; 20. 77-Kale Drake[4]
---
Submitted By: Bryan Hulbert
Back to News