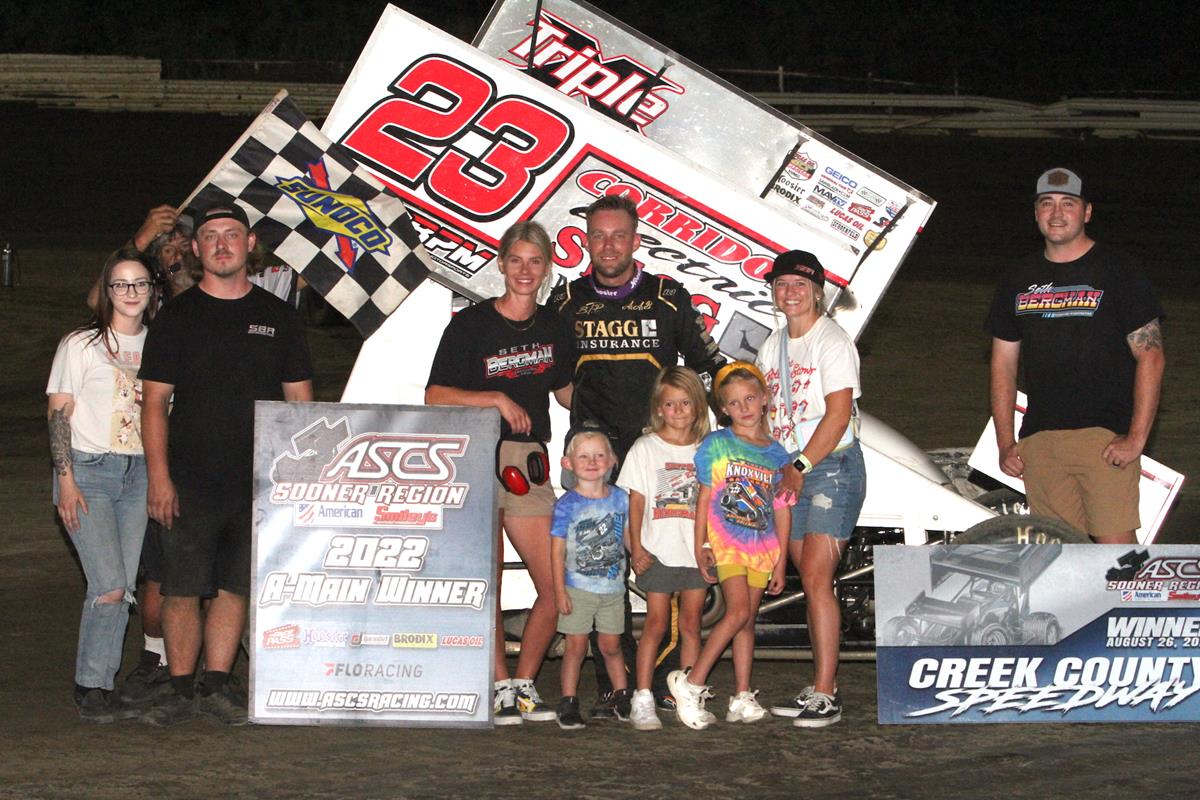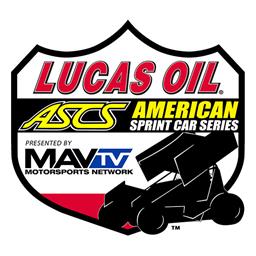 ---
Seth Bergman Fights To ASCS Sooner Region Win At Creek County Speedway
(Image Credit: Richard Bales)
Bryan Hulbert – SAPULPA, Okla. (August 26, 2022) A dog fight for the lead through the first half of the feature at Creek County Speedway, the win ultimately went to Washington's Seth Bergman with the American Bank of Oklahoma ASCS Sooner Region presented by Smiley's Racing Products.
Seth's 11th win in ASCS competition at Creek County Speedway, the win is his 15th with the ASCS Sooner Region and moves him to third all time.
Chasing Alex Sewell for the lead, the pair were inseparable with challenge after challenge from the Evergreen Coffee Co. No. 23 thwarted. Diving low, looking high, Seth finally got a run to the back straightaway as the race reached the halfway point. Finding Swell moving up the track, the pair went bumper to bumper for a moment, with Swell peeling low as Bergman shot around for the point.
Pulling away considerably before the caution came out on Lap 21, Seth stepped hard into the cushion in the first and second turns but was able to recover and pull away with the win.
Under fire from Matt Covington prior to the late race caution, Alex Sewell was able to fend off the No. 95 over the final four laps. Matt Covington, in third, was chased to the line by Brandon Anderson. Moving up five positions, Sean McClelland completed the top five.
Bradley Fezard made a run from 11th to sixth, with Kyle Clark in seventh. Casey Wills in eighth was followed by Ty Hulsey from 18th. Moving up from 20th, Kade Morton made up the top ten.
Other winners Friday night included Matt French in Factory Stocks, Paul York in Dwarf Cars, and Hank Davis in Champ/305 Sprint Cars.
The next event for the American Bank of Oklahoma ASCS Sooner Region presented by Smiley's Racing Products is Saturday, September 27 at Tri-State Speedway in Pocola, Okla. Tickets for Saturday's rendezvous at the high-banked oval are $20 for adults and free for kids 10 and under. Gates open at 6:00 P.M. with Racing at 8:00 P.M. (CDT).
Tri-State Speedway is located at 1705 W. Race Track Rd. in Pocola, Okla. More information on the track can be found at https://www.tri-statespeedway.com or by calling (918) 575-1369.
For fans that cannot attend ASCS Sooner Region events in 2022, they can be seen live on http://www.racindirt.com.
The 2022 season will mark the 31st year of competition for the American Sprint Car Series. Spearheaded by the Lucas Oil American Sprint Car Series presented by the MAVTV Motorsports Network, the ASCS Nation includes 11 Regional Tours encompassing both wing and non-wing competition.
For other news, notes, and information on any of the tours under the ASCS banner, log onto http://www.ascsracing.com, follow on Facebook, Instagram, and Twitter (@LucasOilASCS).
Race Results:
ASCS Sooner Region
Creek County Speedway (Sapulpa, Okla.)
Friday, August 26, 2022
Heat 1 (8 Laps): 1. 55B-Brandon Anderson[2]; 2. 23-Seth Bergman[4]; 3. 95-Matt Covington[5]; 4. 23X-Steven Shebester[1]; 5. 91D-Michael Day[3]; 6. 24-Ty Hulsey[7]; 7. 12-Jeffrey Newell[9]; 8. 50Z-Zach Chappell[8]; 9. 2B-Brett Becker[6]
Heat 2 (8 Laps): 1. 8-Alex Sewell[2]; 2. 9$-Kyle Clark[1]; 3. 87-Sean McClelland[4]; 4. 938-Bradley Fezard[6]; 5. 7F-Noah Harris[9]; 6. 83-Jett Hays[5]; 7. 22C-Charlie Crumpton[7]; 8. 91-Justin Fine[3]; 9. 88-Terry Easum[8]
Heat 3 (8 Laps): 1. 7M-Chance Morton[1]; 2. 31-Casey Wills[3]; 3. 22M-Rees Moran[2]; 4. 52-Blake Hahn[7]; 5. 42P-Preston Perlmutter[8]; 6. 26M-Fred Mattox[4]; 7. 90-Lance Norick[6]; 8. 8M-Kade Morton[5]
B-Main (12 Laps): 1. 26M-Fred Mattox[5]; 2. 91D-Michael Day[2]; 3. 12-Jeffrey Newell[3]; 4. 24-Ty Hulsey[1]; 5. 50Z-Zach Chappell[8]; 6. 8M-Kade Morton[9]; 7. 90-Lance Norick[7]; 8. 2B-Brett Becker[12]; 9. 88-Terry Easum[11]; 10. 22C-Charlie Crumpton[6]; 11. 83-Jett Hays[4]; 12. 91-Justin Fine[10]
American Bank of Oklahoma A-Main (25 Laps): 1. 23-Seth Bergman[3]; 2. 8-Alex Sewell[2]; 3. 95-Matt Covington[6]; 4. 55B-Brandon Anderson[4]; 5. 87-Sean McClelland[10]; 6. 938-Bradley Fezard[11]; 7. 9$-Kyle Clark[9]; 8. 31-Casey Wills[5]; 9. 24-Ty Hulsey[18]; 10. 8M-Kade Morton[20]; 11. 50Z-Zach Chappell[19]; 12. 91D-Michael Day[16]; 13. 42P-Preston Perlmutter[12]; 14. 26M-Fred Mattox[15]; 15. 7M-Chance Morton[1]; 16. 52-Blake Hahn[7]; 17. 7F-Noah Harris[8]; 18. 23X-Steven Shebester[14]; 19. 22M-Rees Moran[13]; 20. 12-Jeffrey Newell[17]
---
Submitted By: Bryan Hulbert
Back to News