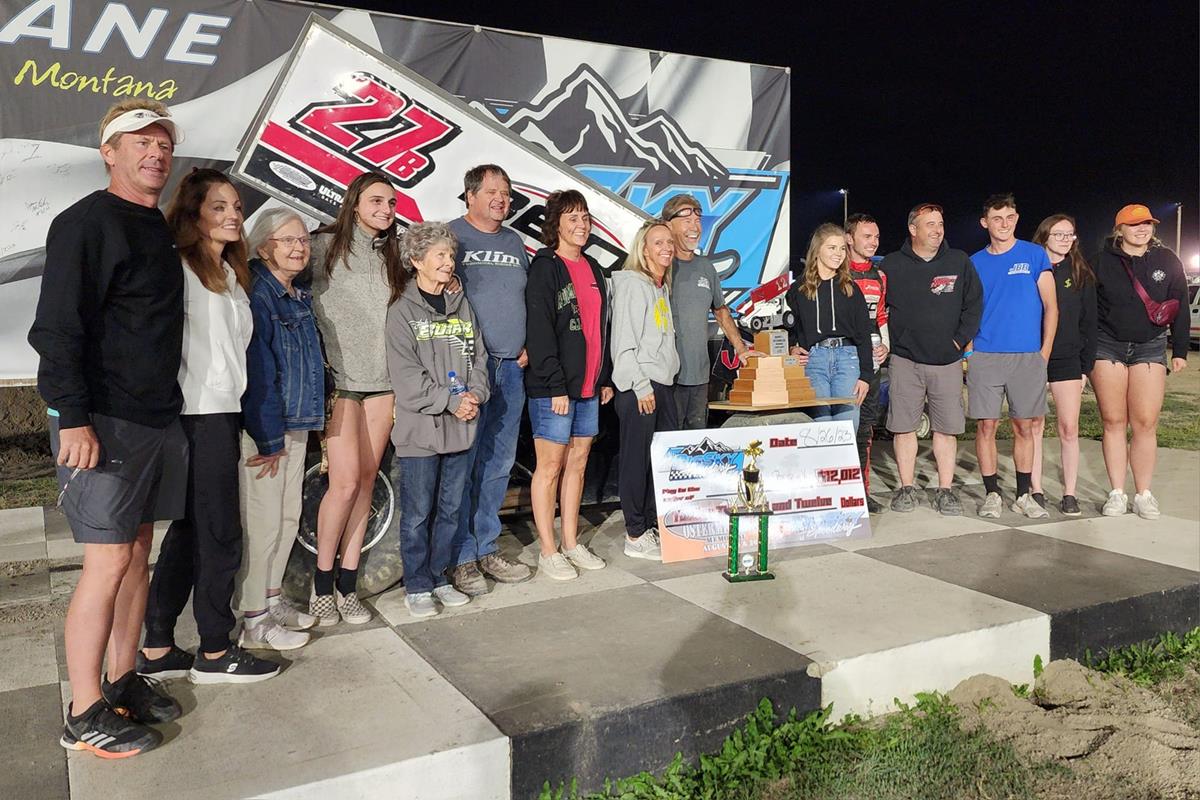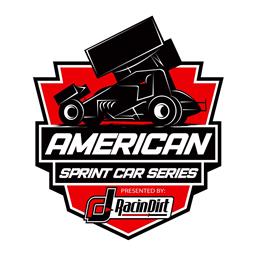 ---
Jake Bubak Wins The Harvey Ostermiller Memorial
Andrew Kunas - BILLINGS, Mont. (August 26, 2023) Jake Bubak put his name in the record books as the winner of the highest paying to win dirt sprint car race ever in the state of Montana on Saturday night when he dominated and won the Harvey Ostermiller Memorial at Big Sky Speedway, pocketing $12,012.
While the Lincoln, Nebraska driver has been victorious in 410 and 360 sprint cars along with midgets this season and picked up an ASCS National Tour victory earlier this summer, Bubak's win at Big Sky Speedway might have been sweetest one with the large paycheck and his name going on the permanent trophy that will be on display at Big Sky Speedway.
With his Friday main event and Saturday qualifying and heat race points combined, Bubak earned the pole position for the 25-lap feature. Bubak took the lead on the start from fellow front row starter Logan Forler, who won the last two Harvey Ostermiller Memorials. Bubak was never threatened for the lead most of the way, slicing his way through traffic and keeping his pursuers at bay.
On a late restart Forler attempted a slider in Turns 1 and 2 but was unable to get in front of Bubak and ended up losing two positions instead. Bubak drove off from there and won it aboard the Patrick Bourke No. 27b Don Ott-powered J&J.
Harrisburg, Oregon's Tyler Thompson, a first-time visitor to Big Sky Speedway this weekend, took advantage of Forler's missed slide job and got by both him and Fresno, California's Dominic Scelzi to move into the runner-up spot. Though unable to get to Bubak, Thompson still finished second aboard the Main Motorsports No. 35mx Ostrich-powered Maxim. Scelzi got on the podium, taking third aboard the Gary Scelzi No. 41 Kistler-powered Maxim.
Forler, who won Friday's preliminary feature, finished fourth in his attempt at the three-peat in the event. Another streak also ended as Forler had won the last seven times he raced at Big Sky Speedway.
South Australia's Scott Bogucki was originally slated to start ninth in the feature but went off the track to the pit area during parade laps and was forced to tag the back of the field for the start when he came back on, but Bogucki was able to charge back to finish fifth. Skylar Gee, Colton Heath, Joe Perry, Trever Kirkland and Harli White rounded out the Top 10.
Heat races were won by Perry, Dietz, Blayne Brink and White. Channin Tankersley won the B-Feature event.
Other large bonuses were up for grabs, as Perry earned a $2,000 check from Kirkness Roofing for being the highest finishing ASCS Frontier Region regular. Channin Tankersley and Jeremy McCune tied for the hard charger nod, and it was decided they would evenly split the $2,212 that came out of the grandstands at Big Sky Speedway.
This year's Harvey Ostermiller Memorial was the sixth edition, run in memory of the longtime driver and later car owner who passed away in 2016. Ostermiller also had a large hand in building Big Sky Speedway over 20 years ago. 30 different drivers from Montana, Idaho, Wyoming, Nebraska, Oklahoma, Colorado, California, Oregon, Washington and Alberta all converged on Big Sky Speedway for the prestigious event.
Next for the ASCS Frontier Region is the traditional three-night Montana Roundup at Electric City Speedway in Great Falls on Labor Day weekend; September 1st, 2nd and 3rd. Sunday's main event will pay $10,000 to win.
More information on the Brodix Frontier Region of the American Sprint Car Series, along with the ASCS National Tour and other ASCS regional tours, can be found online at www.ascsracing.com. Stagg Motor Sports, the promoting company of the ASCS Frontier Region, can be found at www.staggmotorsports.com.
---
Brodix ASCS Frontier Region
Harvey Ostermiller Memorial
Big Sky Speedway
Billings, MT
August 26, 2023
UNOFFICIAL RESULTS
29 cars
Heat 1 (8 laps): 1. 28 Joe Perry, 2. 23 Seth Bergman, 3. 27b Jake Bubak, 4. 9k Kory Wermling, 5. 12h Channin Tankersley, 6. 21o Ryder Olson, 7. 3 Jordan Milne, 8. 82c Christian Kinnison.
Heat 2 (8 laps): 1. 72 Phil Dietz, 2. 2jr Kelly Miller, 3. 23n Skylar Gee, 4. 37 Trever Kirkland, 5. 10 Scott Bogucki, 6. 0J Jeremy McCune, 7. 9 Damon McCune.
Heat 3 (8 laps): 1. 21b Blayne Brink, 2. 01 Rich Bailey, 3. 33 Colton Heath, 4. 2m Abraham Hernandez, 5. 66 Fred Holz, 6. 12 Josh Ostermiller, DNS - 1m Willie Hernandez.
Heat 4 (8 laps): 1. 12hw Harli White, 2. 2L Logan Forler, 3. 41 Dominic Scelzi, 4. 35mx Tyler Thompson, 5. 24m Ian Myers, 6. 16g Austyn Gossel, 7. 35m Cody Masse.
B-Feature (12 laps): 1. 12h Channin Tankersley, 2. 9 Damon McCune, 3. 3 Jordan Milne, 4. 0J Jermey McCune, 5. 35m Cody Masse, 6. 21o Ryder Olson, 7. 2m Abraham Hernandez, 8. 82c Christian Kinnison, 9. 66 Fred Holz, 10. 12 Josh Ostermiller, 11. 24m Ian Myers, 12. 16g Austyn Gossel.
Harvey Ostermiller Memorial (25 laps): 1. 27b Jake Bubak, 2. 35mx Tyler Thompson, 3. 41 Dominic Scelzi, 4. 2L Logan Forler, 5. 10 Scott Bogucki, 6. 23n Skylar Gee, 7. 33 Colton Heath, 8. 28 Joe Perry, 9. 37 Trever Kirkland, 10. 12hw Harli White, 11. 12h Channin Tankersley, 12. 72 Phil Dietz, 13. 21b Blayne Brink, 14. 0J Jeremy McCune, 15. 9 Damon McCune, 16. 3 Jordan Milne, 17. 9k Kory Wermling, 18. 23 Seth Bergman, 19. 01 Rich Bailey, 20. 2jr Kelly Miller.
Lap leaders - Jake Bubak 1-25
---
Upcoming ASCS Frontier Region events
September 1 - Electric City Speedway - Great Falls, MT (Montana Roundup - Night 1)
September 2 - Electric City Speedway - Great Falls, MT (Montana Roundup - Night 2)
September 3 - Electric City Speedway - Great Falls, MT (Montana Roundup - Night 3)
September 8 - Gallatin Speedway - Belgrade, MT
September 9 - Big Sky Speedway - Billings, MT
---
Harvey Ostermiller Memorial
Winners
2017 - Travis Rilat
2018 - J.J. Hickle
2019 - Jordon Mallett
2020 - no race
2021 - Logan Forler
2022 - Logan Forler
2023 - Jake Bubak
---
2023 ASCS Frontier Region winners
May 19 - Kelly Miller at Big Sky Speedway
May 20 - Kelly Miller at Big Sky Speedway
May 26 - Rained out at Electric City Speedway
May 27 - Rained out at Electric City Speedway
June 9 - Postponed at Gallatin Speedway
June 10 - Postponed at Big Sky Speedway
June 16 - Kelly Miller at Gallatin Speedway
June 17 - Kelly Miller at Big Sky Speedway
July 7 - Logan Forler at Big Sky Speedway
July 8 - Logan Forler at Big Sky Speedway
August 4 - Rained out at Gallatin Speedway
August 25 - Logan Forler at Big Sky Speedway
August 26 - Jake Bubak at Big Sky Speedway
---
ASCS Frontier - Stagg Motor Sports
www.staggmotorsports.com
American Sprint Car Series
www.ascsracing.com
---
Submitted By: Bryan Hulbert
Back to News