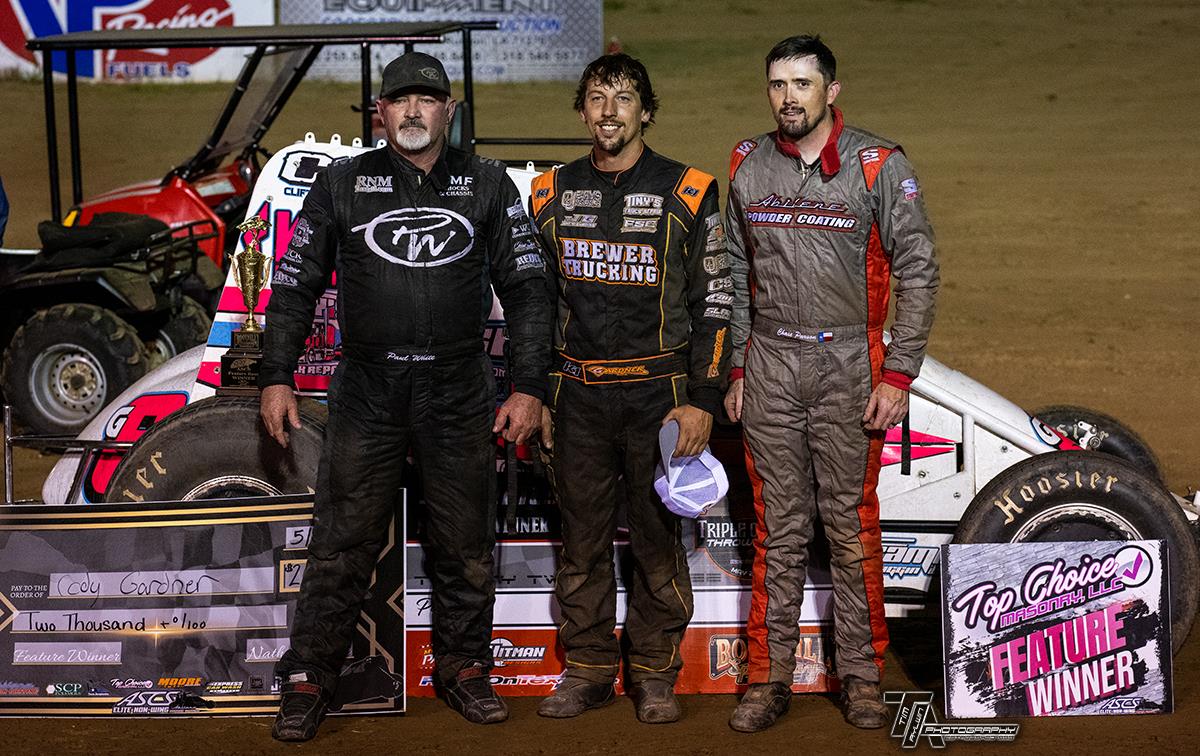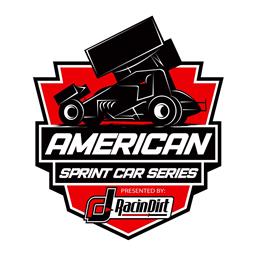 ---
Gardner Goes Back-To-Back With ASCS Elite Non-Wing
(Image Credit: Tim Aylwin)
Bryan Hulbert - GREENWOOD, La. (May 27, 2023) Earning two of the three scheduled races so far on the weekend for the ASCS Elite Non-Wing Series presented by Abilene Powder Coating, Cody Gardner was back atop of the podium Saturday night at Boothill Speedway.
Hustling the high side to the lead from fourth on the opening lap, that is where Cody remained as veteran Paul White, who started seventh, stalked on the bottom through the closing laps. Getting a run to bring it down to car lengths off the final turn, it was not enough to deny the Tiny's Truck Repair No. G6 the win.
White in second was chased by Chase Parson for third. Blaine Baxter from tenth, made it to fourth, with Topeka's Wyatt Burks making a huge 15-position run through the field to finish fifth.
Mike Merrell, Justin Zimmerman, Anthony Nicholson, Chris Williams, and Jason Howell completed the top ten.
The series wraps up the weekend Sunday, May 28, at Ark-La-Tex Speedway.
The ASCS Elite Wing and Non-Wing Series is owned and operated by Nathan Moore and operates under the sanction of the American Sprint Car Series. Rules for both tours can be found at http://www.ascsracing.com.
Nathan can be reached at (903) 780-9934 or by email at elitenonwingsprints@gmail.com.
The 2023 season will mark the 32nd year of competition for the American Sprint Car Series. Spearheaded by the American Sprint Car Series National Tour, the ASCS Nation includes Regional Tours that encompass both wing and non-wing competition.
For other news, notes, and information on any of the tours under the ASCS banner, log onto http://www.ascsracing.com, follow on Facebook, Instagram, and Twitter (@ASCSRacing)
Race Results:
ASCS Elite Non-Wing
Boothill Speedway (Greenwood, La.)
Saturday, May 27, 2023
Boxwell Heavy Haul Heat 1 (8 Laps): 1. 44C-Cody Price[3]; 2. 1-Paul White[1]; 3. 33-Mike Merrell[6]; 4. 63-Chris Williams[5]; 5. 47-Chipper Wood[2]; 6. 15B-Danny Burke[4]; 7. (DNS) 1W-BP White
Texas Aeroplastics Heat 2 (8 Laps): 1. 44-Jason Howell[1]; 2. G6-Cody Gardner[4]; 3. 25B-Blaine Baxter[3]; 4. 10-Matt Ebarb[5]; 5. 85-Josh McCord[6]; 6. 2H-Tommy Hall[2]; 7. (DNS) 15-Wyatt Burks
Jacksonville Tool Die Heat 3 (8 Laps): 1. #1-Justin Zimmerman[3]; 2. 16-Anthony Nicholson[1]; 3. 57-Chase Parson[5]; 4. 69-Jamey Mooney[6]; 5. 72-Gary Floyd[4]; 6. 83-Blake Carrier[2]
Top Choice Masonry A Feature (20 Laps): 1. G6-Cody Gardner[4]; 2. 1-Paul White[7]; 3. 57-Chase Parson[6]; 4. 25B-Blaine Baxter[10]; 5. 15-Wyatt Burks[20]; 6. 33-Mike Merrell[1]; 7. #1-Justin Zimmerman[3]; 8. 16-Anthony Nicholson[8]; 9. 63-Chris Williams[11]; 10. 44-Jason Howell[5]; 11. 47-Chipper Wood[15]; 12. 72-Gary Floyd[14]; 13. 83-Blake Carrier[17]; 14. 85-Josh McCord[13]; 15. 2H-Tommy Hall[16]; 16. 69-Jamey Mooney[9]; 17. 44C-Cody Price[2]; 18. 10-Matt Ebarb[12]; 19. 1W-BP White[19]; 20. 15B-Danny Burke[18]
---
Submitted By: Bryan Hulbert
Back to News